Friday morning, 9am
You enter your usual shop, a giant screen, turned in your direction, attracts your attention. It invites you to take out your smartphone and play around with it.
A scan.
A click.
You're connected to the screen.
You take the wheel now: You're in control.
You control the broadcast on the screen, the time that it takes to participate in a game that was organised by the shop, and maybe to win, in a trice, your breakfast for example.
A dream? Imagination? Complex?
Not at all!
Cenareo makes the wheel spin this first of April!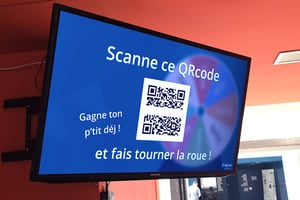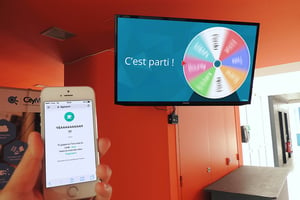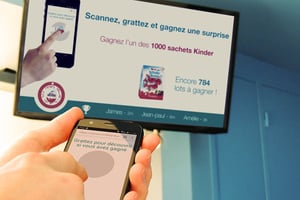 The start uppers of the IOT valley had this experience last April 1st. To promote its new feature of interactive screen synchronization (which makes it possible to instantly and on demand broadcast content on a screen), Cenareo, offered, through an ephemeral website Frigomeo, to have a go at the wheel and to win some chocolate!
The QR codes (and bleams for friends) were just asking to be scanned! A wheel would then instantly appear on screen, synchronized with the smartphone. It would then turn and show the lot that you won!
Screens and connected objects in the middle of phygitalization
Beyond the theatre of this simple and fun demonstration, its new ways of interacting with the employees, visitors or clients that open up. The screen adapts a new way of functioning: more than the simple transmission of brand information to the consumers, it now also allows a dialogue to occur with them.
Now that the behaviour of the client evolves with new technologies, the customer experience becomes more than fundamental for firms. In this context, what could be more effective to make the customers loyal than the gamification of the point of sale, the interactivity with the visitors and the use of smartphones as an integral part of the transmission of the message. The point of sale becomes the place of a singular experience, new and amusing, the ideal cocktail to inspire confidence and sympathy. It's an original and effective way to revitalize your contests, your surveys or in shop polls, to gamify the collection of information, and lastly the transmission of messages. This interaction is however only a tool in the service of the marketers and couldn't be effective without rich, engaging, qualitative content.
Except smartphones, in reality all connected objects are capable of controlling screens and triggering broadcasts, in the same way as online services. The connected buttons, movement, temperature or sound sensors, are in this way also capable of starting on screen animations.
Why not launch a video when the coffee machine is out of water?
You have a digital signage project, ask for a free demo.