January can be a tough month for retailers; Christmas is over and shoppers expect big discounts and extensive sales. It's also a transitional month where you need to balance sale stock and new season stock without your store looking crowded or confusing. A good pricing strategy and effective promotion can increase your chances of getting the year off to a good start. Here we discuss some pricing strategies and tricks, and how you can use digital signage to promote your offers and increase sales.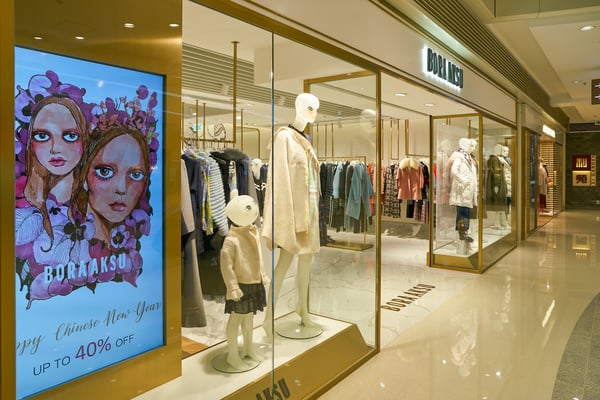 The January sales are an important part of the retail calendar. As well as being a chance to clear out any remaining Christmas stock that you might have over-ordered, and anything that didn't sell well during autumn, promotions are a chance to grow your customer base, attracting more people into your shop, including bringing some customers in for the first time.
Use your storefront
Digital signage is a great tool for communicating discounts. Use it in your shop windows, with engaging video content to reach the maximum number of passers-by. Use it to advertise special extended opening times during the sales period. Keep your content fresh and interesting - because you can update digital signage easily using a content management system, think about putting daily offers in the windows and being creative with your messages.
January has its own seasonal items – especially anything related to new year's resolutions. Can you tie in any of your products to health and fitness, or to goal tracking? If so, make sure these are advertised in the storefront. Many people try a month-long challenge during January, can you get their attention with a countdown?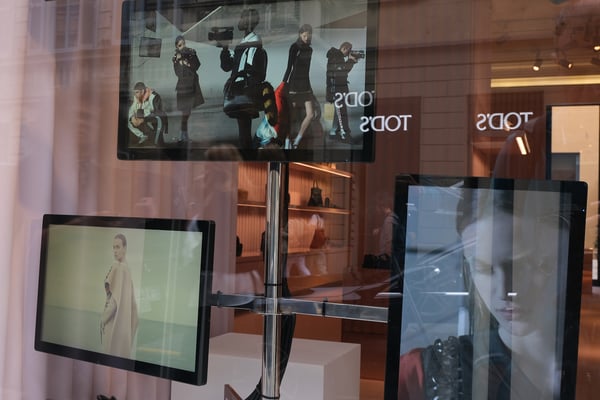 Signpost new season items
As well as being effective for promoting sales outside your shop, digital signage is a great tool for signposting areas within it. While reduced items might take up most of your floor space in January, with a new year, people want something fresh, so it's important to have full-priced items prominently displayed too to meet that demand (and help offset your discounts).
Consider putting sale items at the back of the store, so that people need to walk through your full-priced products first to get to them. Digital signage screens hung from the ceiling are good signposts that help people to navigate your shop layout in the way that you want them to, without taking up any floor space.
Lighting is an important aspect of your store design and can be used to create different zones or to highlight areas or interest, like new season stock, in a store which has both sale and full-priced items. Digital signage can help here, with a high brightness screen showing predominantly white and bright coloured images, or you can use video and animation to attract people's attention.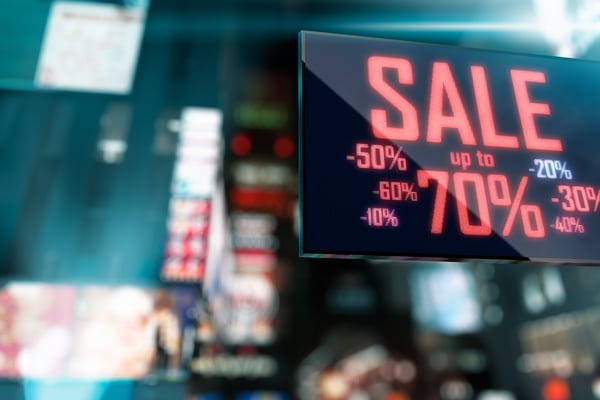 Use signage for cross-selling
Make the most of increased footfall during the sale, by promoting impulse buys. Use digital signage near your tills and POS (point of sale) to reach people who are queuing and remind them of any items they might have missed, especially small items that they can grab then and there. Use digital signage within the store to show how different items complement each other, for example, make the most of your screens' capacity to show video with how-to videos using a variety of products from a range, or, if you're a fashion retailer, with runway videos showing complete looks.
When planning your sale, you will have needed to make decisions about which lines to discount, whether to run promotions across your whole store, and what type of discounting to do. For example, you will have decided whether a price discount or a percentage discount appeared to give the most generous offer. Make sure that this is well advertised on screens throughout the store. With the flexibility of signage, you can always make changes depending on how well different offers are doing.
Advertise conditional discounts
You might want to give discounts in return for customer information, giving exclusive offers to people who join your mailing list or your loyalty scheme. Using this tactic will help you get better intelligence, so that you can offer customers targeted discounts in the future, or invitations to special events based on their purchases and interests, tying together your online and offline promotions. Use your digital signage screens to communicate your loyalty scheme and sell its benefits.
January sales are not as simple as slashing prices. Success relies on strategic pricing, communication and changes to store layout. Digital signage is a tool that can help you to advertise your discounts to a wide audience and compete on a crowded high street. It can help you to optimise the space within your store and make sense of a mix of stock, giving customers clear information. With content management, you can make changes quickly, changing your offers as you need to. And it will continue to help you compete throughout 2020.
For advice on your retail digital signage project, contact our experts.