When you are planning content for your digital signage solution, remember to leave room for real-time content. Often, the most interesting information is the information that you don't have in advance, the live data about what's happening now. It's engaging because it's useful, it's relevant (context-driven) and it's new; it's what will make people check your screens and keep checking back.
The most obvious example of real time content in digital signage is in transport: the arrivals and departures board at the airport or train station, delivering essential information to travellers. However, information doesn't need to be critical to be interesting and you don't need to be running a transport hub to add it into your content mix. There are lots of different types of real time data that you can use in your signage to give it that special sauce. Below we look at some examples.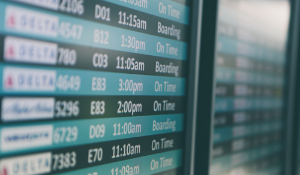 Location-based information
This is information about what's happening in your location right now, for example, air temperature, the likelihood that it will rain, traffic flow, local news and events, even local sports results. You can take this information from apps and public RSS feeds from content providers and, using your digital signage content management system, build it into a layout that will automatically update.
You might want to use location-based information in a different way too, as a trigger for certain content, a type of context driven marketing. You can make your content responsive to the environment by using detectors or third-party applications to automatically trigger broadcasts on your digital displays depending on weather, on motion detection or on facial detection or recognition. You can read more information on weather-reactive digital signage in our previous article.
Social media or user-generated content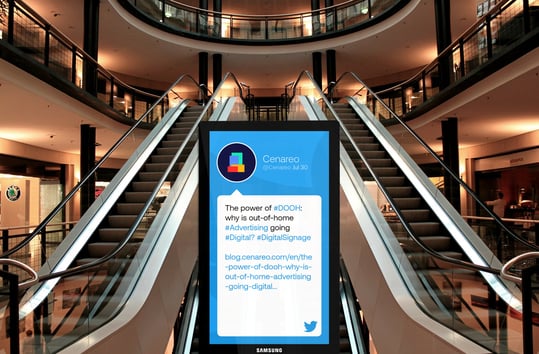 Using social media as a source of real-time content can make your signage more personal and more interactive. If your company is already creating social media content for your own feeds, then you can get a greater ROI for that content by incorporating it into your digital signage. The content is already approved by your marketing team, it will be timely, and it will be image rich too.
You can also pull in user-generated content from social media, although think about whether you would need to moderate it. For example, you can use screens to create a social media wall that shows what people are sharing on Twitter and Instagram using your company or campaign hashtags. You could link this to a competition to encourage more customers to share their love for your brand and share your content with their friends and followers.
Company information
As well as taking information from external feeds, you can take it from internal sources too, from your own databases. There will almost certainly be information within your company that it's useful to feed into your digital signage content. For example, if you are using digital signage in a retail environment you can update screens to show low stock levels, letting customers know that there are only a few items left, particularly useful during promotions and on POS (point of sale) terminals. Or you can build a digital queuing system where customers can see on a screen when they are going to be served, by connecting your digital signage to your ordering system.
If your signage solution is for internal communications, there will also be information feeds that you can share. For example, you could keep your team up to date with the latest sales figures or your latest customer satisfaction levels. Think about the reports and dashboards that you already have and if incorporating any of that data into your signage would motivate your team. You can use digital signage to unlock the information from emailed reports that might not (probably don't!) get read and display it where it's easy to see.
There are many information sources that can be used to create useful information screens and more engaging marketing screens. With many feeds publicly available and many specialised apps available as plug-ins to digital signage content management systems it's far easier than you might think. For advice about building live data feeds into your signage solution, contact us, our experts are ready to help you take your digital signage to the next level.
Cenareo offers an intuitive, scalable SaaS solution perfectly adapted to the needs of communication professionals in all sectors of activity. Outlets, Internal communication, Hotels and Restaurants but also DOOH.