In simple terms, it's exactly what it says, a digital screen showing information for customers within a retail space. However, there are many ways of using signage in retail, from a screen in the shop window through to an interactive display at point of sale (POS). Digital retail signage has become more popular as the price of displays has gone down, as software solutions have become more user-friendly and as businesses have looked for more creative ways to attract people into stores.
As bricks and mortar retailers compete with online retailers and compete for a shopper's attention even when they're in their store, a display that gets a shopper's eyes away from their phone is a smart tactic. Here we look at a few examples of retail signage solutions and how they can make a difference to a retail business.
The window display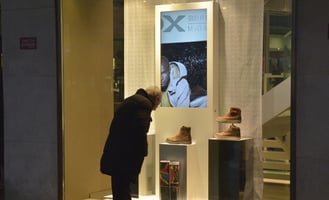 Adding digital signage to your shop window is an easy way to get started and allows you to promote your latest offers and reach your customers outside your opening hours. Moving images on a large screen can help you to grab the attention of passers-by and is easy to program using a digital signage content management system. For retail businesses that need to supply lots of information, like estate agents, screens can transform a window from a grid of paper-holders to a modern and appealing store front, with – for example – video loops of properties on offer, or great photography of the best houses.
The showstopper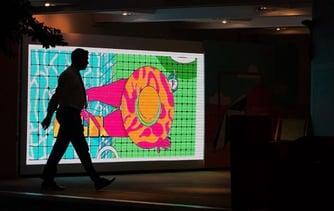 Fashion retailers, especially those competing on city centre high streets, use digital signage to impress customers, selling luxury lifestyles via huge video walls. The most successful uses of digital signage are where it has been considered from the beginning of the shop's design and takes on a starring role. For example, Victoria's Secret stores in London, Dublin and Hong Kong have screens running floor to ceiling around its spiral staircases, showing video from catwalk shows. Creative installations like this are becoming accessible to more retailers as the price of LED panels drops. LED panels are easier to tile together in a seamless wall.
The wayfinder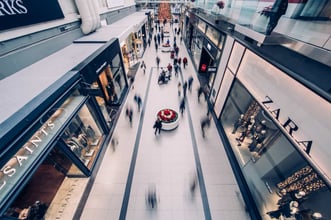 You can't sell something if a customer can't find it, so providing wayfinding is crucial for department stores and shopping centres. An interactive digital signage solution provides a searchable map for customers that's easy to use. It also gives retailers opportunities to engage customers more deeply, with space for information about the store or products, specific offers, coupons and social media interaction to build customer relationships.
The catalogue
Another interactive digital signage solution is to provide displays in-store that customers can use to browse through your product range, or product options. With high end purchases that involve a level of customisation, like choosing the colour of your car, or the fabric for a sofa, having a screen that shows how different options would look in real life can help to close a decision. It also helps to show your entire range of stock when you don't have the space to have everything on display, or to do so would look cluttered.
The POS or point-of-purchase (POP) display
POS displays are important because they are the last chance to reach your customer. Have they forgotten something? Are they waiting in a line at the checkout, looking at their phone when they could be learning more about your brand or seeing a special offer?
In an 2018 study in the US, Popspots found that 57% of consumers have purchased a new brand or product after seeing it in the checkout line.


For a food retail business, the POS display could also be the menu board above a counter. Being digital means that the right part of the menu can be displayed at the right time, with more space to push appropriate offers and specials. Using a content management system you can manage multiple sites and screens easily.

The future
Digital signage analysts Invidis predict that retail digital signage solutions will evolve so that transactional signage becomes the new normal. Whereas most retail signage currently is a form of digital poster, they predict that more screens will soon include the functionality to process payments: "Interactive digital touchpoints are not limited to vending and ticketing machines anymore, interact – purchase – pay becomes a relevant feature for most new digital signage applications." Quicker sales are likely to mean more sales, so it's definitely something to consider.
Cenareo helps many customers create easy-to-manage and effective retail signage solutions. For more information or advice on your project, whatever stage you're at, contact us here.