IoT (Internet of Things) technology has been hyped as transformational for many industries, perhaps especially retail, with huge figures suggested for growth or savings. For example, in 2015 US consultancy firm McKinsey predicted that the potential global economic impact of the Internet of Things in retail environments ranged from $410 billion to $1.2 trillion per year in 2025.
How could IoT have such an impact? How should retailers be using it?
A definition of the Internet of Things is bringing physical 'dumb' objects into the digitally connected world. This is done by adding chips or tags to 'things', which can be read by sensors, meaning that objects that were previously invisible can be seen, monitored and analysed. Bringing the physical and digital worlds together is an exciting prospect for an industry like retail where the Internet has often fatally wounded 'bricks and mortar' businesses.

There are many opportunities for innovation with IoT in retail which merge aspects of online and physical shopping for businesses and consumers. Here we look at a few of the best implementations: customised real-time promotions, lift and learn digital signage and automated checkout.
Customised in-store promotions
We said that IoT brings the digital and physical worlds together; responsive digital signage retail is a great example of this. It's now possible to use customer data captured from people's behaviour online to customise offers that can be shown in-store via digital signage.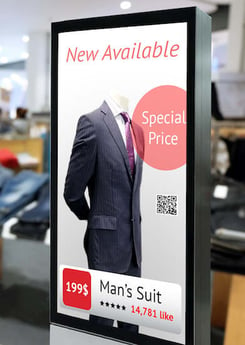 For example, you really like a clothing store, so you download their app for quick purchases and to get offers and news. You walk into their store; they have sensor technology that recognises you and triggers a welcome message that shows on a digital signage display. Data from the app includes what you were last looking at, so signage in store directs you to the item, while at the same time sending a discount code to your phone.
This type of IoT interaction requires a proximity marketing solution. Beaconstac's blog has a good summary of the differences between the main proximity marketing technologies: RFID, QR codes, Beacon and NFC. Using retail signage software, you can set the tag or code reader or Beacon to trigger content on certain displays. Your choice of which display to use will depend on when you want to reach your customer, maybe it's as they walk in, or maybe it's as they wait in line for the till, or just before they pay on an EPOS (electronic point of sale) screen.
Lift and Learn retail signage solutions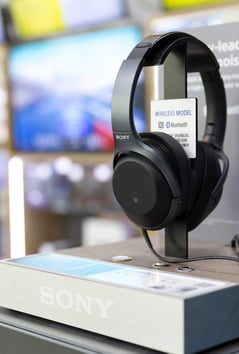 Another way of using IoT to make your retail digital signage solutions more personal and engaging is a 'lift and learn' solution. This is where a product is tagged, so that when it is picked up, the tag recognises the customer's interest. This then triggers content to show on a display.
For example, you could use it to show images of different product options, a video about how the product was made or how it could be used.
Or similarly, you could have a reader and display station in store, and customers can take any tagged product up to the reader to see more information on the display. This would be helpful in stores with technical products or products that might require after-care, for example, hardware stores or pharmacies.

You can run analytics on which products are taken to the reader most frequently for insights and consider what extra signage or promotion you could introduce to increase sales.
Automated checkout
So far, we have looked at IoT implementations that trigger digital signage. Another key action for IoT tags is to trigger a payment. By including a tag in every product in a store, checkout can become automated. As a customer walks past a sensor, the sensor can tell what products the customer has and, if they are signed up to participate, it can automatically charge the phone, card or account that they have registered.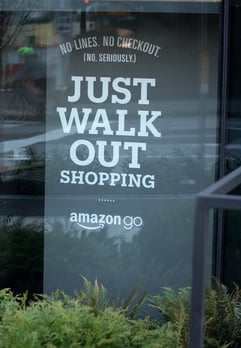 Perhaps the most famous trial of automated checkout is Amazon Go, and more retailers are expected to trial this technology as we grow increasingly comfortable with paying via a smartphone.
According to WorldPay, 16% of global point of sale payments were made via an e-wallet and are predicted to grow to 28% by 2022.
The benefits are obvious: a quick and easy (and for now at least, novelty) transaction for the customer, lower staff costs for the store, less space needed for tills and checkouts, and a huge amount of intelligence on customer buying behaviour.
If you're looking to add IoT technology to your signage solution, Cenareo can help. Contact us to discuss your project.