In the latest of our posts looking at 'glocal' digital signage, we discuss how large retailers and retail brands can apply this approach to get more engagement. A Glocal signage policy prioritizes locally relevant content, but ensures that it still looks and feels part of one central campaign. It multiplies the value of national or international brand recognition - which may have been built with years of investment in advertising - with the value of locally targeted messages. Previously we have looked at why digital signage is the perfect tool for glocal marketing, here we look at how retailers can easily localise content, either through automation or by empowering local content creators.
The challenges of creating local content marketing
It's best practice for marketers to create different content for the different personas who buy their brand's products, in fact marketing to three audience segments is common. (HubSpot, 2020) However, while a central marketing team can create different content for different types of buyer fairly easily, it won't be possible for them to tailor content by location. If you have hundreds or even thousands of stores across different countries one team simply can't create local content to run on displays in each store. So how do you introduce personalised content?
Automate localisation with a responsive platform
One way is automation. With a SaaS (software as a service) digital signage solution like Cenareo, even if you choose to manage the content of your displays from one head office, you gain the ability to tailor your content based on some external factors, like the weather. For example, Etam chose to partner with Cenareo to simplify and centralise the management of its digital signage in 4,000 stores. The platform can automatically show different pre-planned content in response to weather conditions, so on the same day, when it is raining in Brest and is hot and sunny in Marseille, the display of the Breton shop will promote a warmer outfit, while that in the Mediterranean can show a new range of swimwear.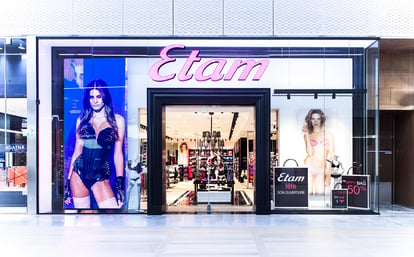 Even this one change can improve the effectiveness of your in-store signage. Weather responsive ad campaigns can be very effective, Stella Cidre reported a 6% increase in year on year sales during a period using this tactic. Another example is La Redoute, who used billboards with weather sensors and ran a series of ads depending on weather conditions. This weather-triggered signage campaign resulted in a 17% sales increase.
Share digital signage content creation with store managers
Taking localisation one step further, you can choose to get people from local marketing teams or local store management involved in content creation. They are the closest to your customers and have insights about their interests. They know the products and services that the store's community is most interested in. Being able to communicate locally lets you have a more precise communication strategy that makes the customer feel better understood and closer to the brand. So how do you do this? And how do you balance an expertise in the audience with a lack of expertise in marketing?
With Cenareo's digital signage SaaS platform you can have multiple content creators with different levels of publishing rights. We call it Co-operative Management, with different access levels for different members of a team. We make it easy to add content with a super simple workflow and a platform that accepts all common types of content (text, image, video files, social media integration etc.) into pre-approved content templates. With Co-operative Management, all content can be integrated into a global program overseen by head office for consistency and also for reporting. Let's see how it works in practice.
Glocal digital signage retail case study: EUROREPAR Car Service
Cenareo customer EUROREPAR Car Service is a network of 1400 garages across France, dedicated to servicing and repairing all makes of vehicle. Each garage has a display screen to show EUROREPAR Car Service TV, which operates like a television channel. Content is created centrally, but can be edited locally. Programmes are added automatically and are regularly updated by the marketing team. They include things like national sales promotions and national adverts.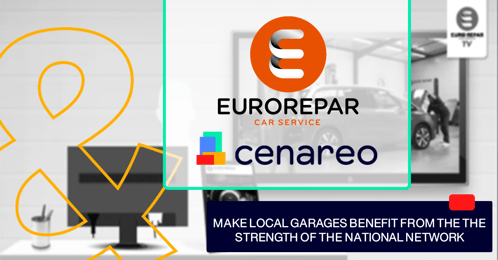 Every garage manager can get involved with the content shown in his or her garage. It's a simple process. Starting with ready-prepared templates created and approved by the central marketing team they edit the text and images to tailor their message. This has the benefit of each garage getting brand recognition from being part of a major national brand while highlighting local offers, services and messages. It puts a bit of the garage manager's personality into the marketing, which compares well against competition from other national brands. EUROREPAR has seen quick results: they report an improved brand image, increased customer loyalty, and more effective promotions.
At Cenareo, with our cloud-based digital signage CMS offered as-a-service, we make it easy to customise and control your content - to both localise and globalise your retail comms. We help you achieve the best of both worlds, delivering engaging messages relevant to your local audience that is also on-brand and consistent with your other communications. Make your digital signage content both more interesting and more consistent by using a glocal model. No more displays as background noise - make them a branded space for always relevant and engaging promotions instead.