Need help getting started with content for your digital signage, or want to up your game? Here we look at some things to consider when you're planning content, and some of the free tools you can use to create impactful signage without a designer, from text and images to presentations and video.
Content is king
The success of your digital signage solution is down to your content. Of course, you need nice screens and easy to use content management, but whether people listen to what you say as a brand is down to your message. It can feel like a challenge, taking on the task of managing content for your company's digital signage, especially if you don't have the budget for a designer or a design agency, but by following some simple rules and using the right tools you can create attention-grabbing content much more easily than you might think.
Make it easy-to-see
Before anything else, make sure that people can easily see your content, and that includes checking your screens are in the best position: at the right height, aren't obscured by pillars or shop fittings and are not in a spot that's too bright for them.
If you are using text, is the font choice and size readable from the viewing distance where people are likely to be? If it's a video, will people have time to watch it all? If your audience is in a queue or a waiting room you have a bit longer, but if they're walking past a shop window, you need something that they can dip in and out of.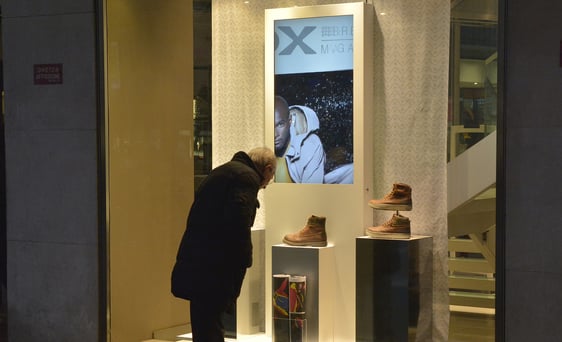 Keep it simple
Simple messages and images work best – having too much text on a display can look messy and confusing. You can always encourage people to come and talk to your team, or visit your website to find out more, you don't need to put everything in your content. You might want to borrow some rules from photography to make the composition of your slides and signs really impactful, PetaPixel has a great summary of techniques like the rule of three, symmetry and frames within frames.
Simplicity goes for fonts and colours too, don't use too many. If you don't have brand guidelines to follow, then think about setting some limits for yourself. Colour has a huge impact on how your message is received so think about a palette that fits with want you want to say – do you want shouty primary colours, relaxing nature colours or serious blacks and greys?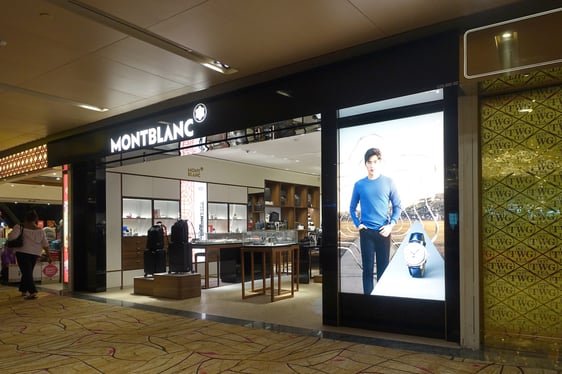 Keep it fresh
Make sure that you have enough content on a loop so that you're not boring an audience by showing the same content again and again. If you're struggling to find enough content within your business, you can add in feeds from external sources, like showing the weather forecast, or news headlines, or a social media feed of content tagged with relevant hashtags.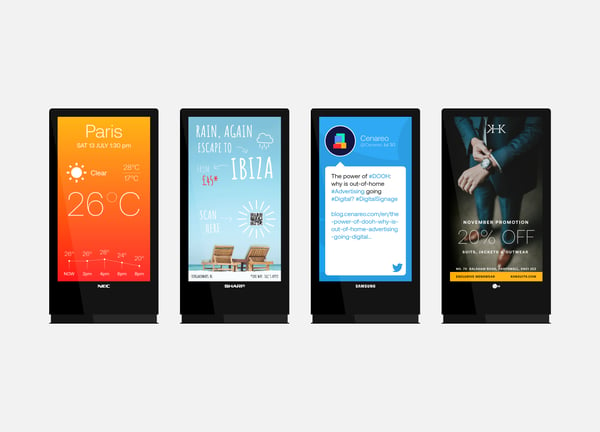 Free tools: Images
Finding enough new images for content is an everyday problem for marketeers. Creating your own photography can be expensive, but there are plenty of stock photo libraries out there where you can download images for free, either rights-free or under a creative commons license, a public copyright license. Always make sure you can use the images for commercial purposes and check if you need to credit the photographer. Some of our favourites are:
Free tools: presentations
Canva is a free design tool for creating marketing and branding material. It has an easy drag-and-drop interface and hundreds of layouts to choose from. For digital signage, the most useful types of free content are presentations and posters. Canva has template business-themed presentations perfect for delivering reports for an internal audience, and sales presentations that you could use in-store. Canva has hundreds of font choices and a huge photo library with photography, illustrations and vector art. You can download your finished presentation as individual images or as one PDF file.
If you want a poster for signage, Canva's poster maker has hundreds of templates designed by its team of professional designers for different environments, from conferences to concerts. Canva's blog has useful information too on design trends and inspiration, marketing and branding, and if you upgrade to the Pro (paid) version you also get Canva Animator for making videos.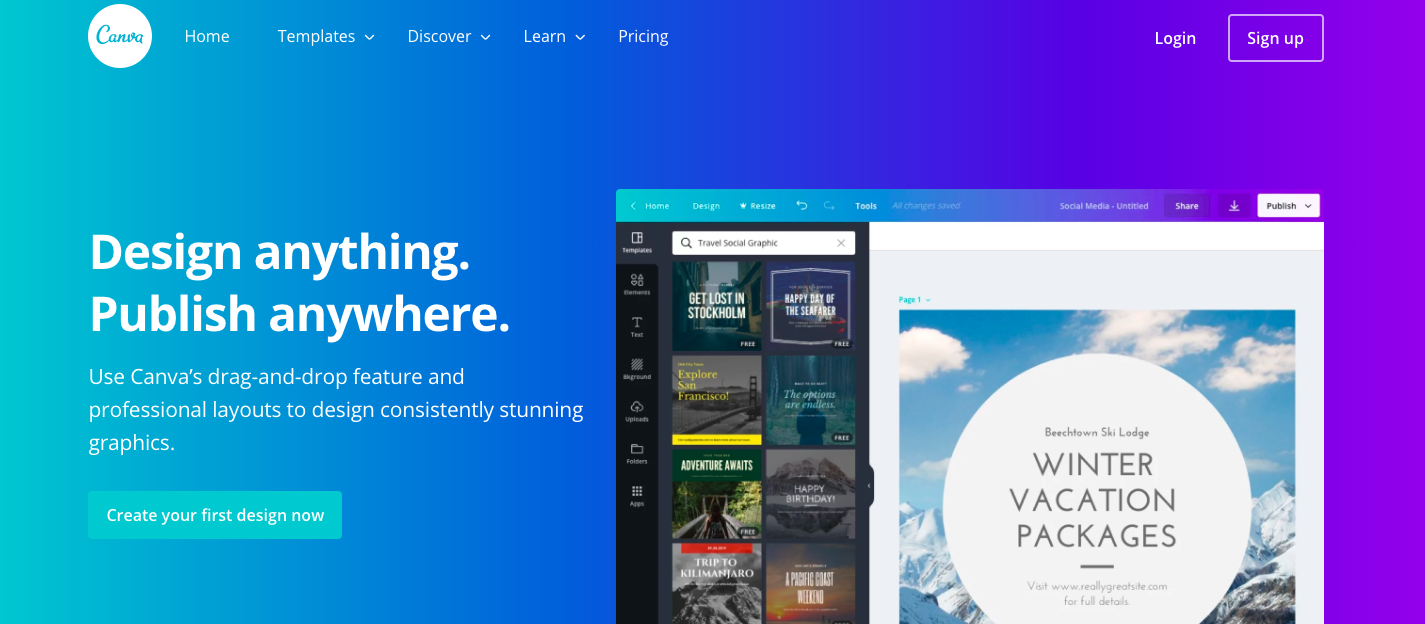 Free tools: video
Lumen 5 is a video creator for content marketing, again, with a really simple drag-and-drop interface. You can use it to make videos in-house in a matter of minutes. It turns a piece of static written content – a blog article for example, or a product brochure – into a video by pulling out key phrases and laying them over your own, or stock video footage. If you enter a link to an article Lumen5 will automatically fetch the content and populate your storyboard, or if your content is offline you can copy and paste it into the video builder. It has a library of free videos, images and soundtracks for you to use. You can create five videos per month for free or paid plans start at $19 per month.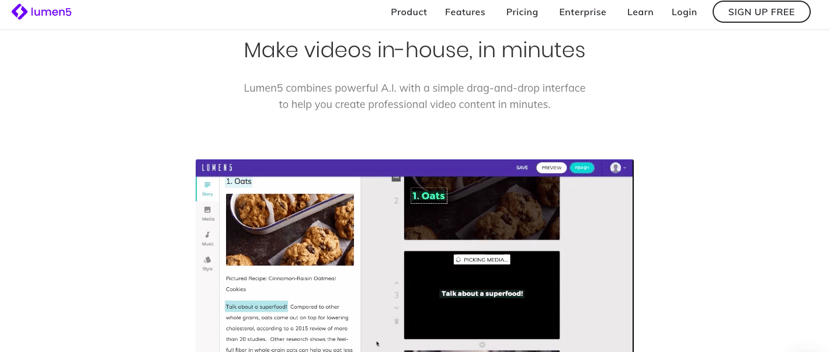 Cenareo is an easy-to-use digital signage content management solution. If you need any help or advice in getting started with digital signage, contact our friendly team for a chat!
Cenareo offers an intuitive, scalable SaaS solution perfectly adapted to the needs of communication professionals in all sectors of activity. Outlets, Internal communication, Hotels and Restaurants but also DOOH.