For large businesses, choosing or replacing a digital signage solution is challenging. There is a lot of choice, a lot of decisions to make and the potential to disrupt your communications if things go wrong.
How do you make sure you choose the right partner? How do you keep a multi-site installation schedule on track? How do you ensure you don't end up with blank screens on day one?
Shane Hawkins, Operations manager at Cenareo shares his tips for a smooth installation. Shane works with new clients, taking them through all the steps of preparing their digital signage solution through to the solution going live. Cenareo works with many clients on large installations of 200 plus digital signage screens, simplifying the process of replacing an existing solution or starting from scratch.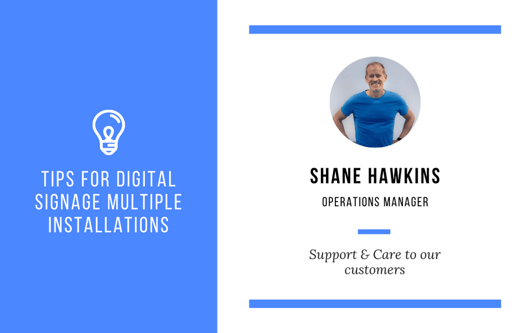 What should companies know before they choose a digital signage partner? What are the right questions to ask?
Firstly, we recommend that people start their research with the solution, because screens have similar functionality. It's the CMS that you need to get right to achieve what you want to achieve – so start there. With new customers we talk about the impact that they want their signage to have, what they want to show and the conditions they want to create. It can feel like a chicken and egg situation for businesses: knowing what they want to do is based on knowing what it's possible to do. But I would say keep in mind what you want the end result to be, know where you're trying to get to.
From a technical point of view make sure any solution can be managed remotely and is cloud-based. That's a very important point because if the solution is not completely 100% remotely configurable and manageable, then if there are future problems, you will need site visits that incur costs. Ask how easy the interface is to use. The CMS needs to be designed for the end user, for people who are not technicians. You want to choose a system that people will enjoy using. One that won't cause them to get stressed, or tired or fatigued with the management of the content. A supplier should give you a trial so that you can check this for yourself with the people who will be using it. Make sure they love using it.
Ask how the CMS can be used. It should be a system that can cover a wide range of different use cases out of the box. If you are starting out, you may have a specific use case planned. But, as you start to use the system, you will find use cases that you didn't know about beforehand. So, you need a system that's flexible, that can be easily modified or updated. Look for a company with the capacity to meet your future needs, even if you don't quite know what they might be at the moment. Ask them if they could develop something tailored for you as a test.
What are some of the biggest challenges with deploying digital signage?
The biggest challenge is related to any existing infrastructure and or existing fleet that a customer has in place. The customer's business isn't managing a fleet of display systems or TV screens, so quite rightly, they probably haven't invested much time or money in asset management or tracking. So there needs to be an audit of what they have in place. Another challenge is often the project is led by the commercial team or the marketing team and they need help understanding what needs to be done technically on their side. We recommend to our clients that they have a project team that includes the project manager or sponsor, the person who is responsible for managing the campaigns and a contact from IT. IT involvement is crucial because they will know if there are any special connection or security needs. None of these are big issues, but they need to be taken into account in planning. We have a discovery phase where we outline what information we need, and we help clients to collect that information.
What are some tips to make installation easier or faster?
The only tip really is the preparation. If you have had an audit beforehand and created an inventory of your fleet and settings, and your new solution is plug and play, then the installation will be quick. Choose a supplier that helps you to collect the necessary information ahead of installation. And ask about their installation team, how many sites they can do in a day, that capacity will decide the time that physical installation takes.
What are some tips for the first days of using the new solution to avoid any interruption to your business?
Make sure your partner takes you through an onboarding or training phase. We do that in parallel to the preparation of the player to resolve any of these sorts of issues before they come up. We offer free training for key users which covers all of the different aspects for how they manage their fleet: how they set up the content, what things to look for to manage a fleet of screens successfully, what to check on a regular basis. All the habits to have that make sure that your signage runs smoothly from day one.
One tip is to set up alerts on your system, if it's possible to do so, that tells you if a player is disconnected from the network. And have default content set up so that if the person controlling the future content forgets to program content one day there is default content that will be displayed. That stops a black screen or a message on the screen saying no content, which is almost as bad!
---
---
---
Enterprises and companies with large fleets trust Cenareo with their digital signage because our system is easy to use, simple and agile. Installing 1000 players is almost as simple as installing twenty. They arrive pre-configured and once connected to power, give you will have full remote access to displays within ten minutes. Contact us about your project !