The digital signage market grew in 2019 and will continue to grow at pace throughout 2020 according to recent research. We look at what's driving growth, how signage solutions will change this year and how the technology can support retailers in coping with a couple of the key challenges they face – rising store costs and improving sustainability.
The digital signage market will continue to grow
A recent report from researchers Markets and Markets predicts that the value of the digital signage market will be nearly 30 million USD in 2024, a growth of 7% year on year from where we are now. It puts this growth down to more businesses using digital signage – particularly in emerging markets – and to businesses increasing their spending on hardware, driven by innovations in screen technology.
The researchers see more and more retailers investing in digital signage throughout 2020, both in developed and emerging markets, because of the well-documented benefits that signage offers. Markets and Markets' press release states:
"By implementing digital signage displays within stores, retailers can deliver targeted messages to customers in real time, manage queues, synchronize video walls, drive brand awareness, encourage buyers to return, and thereby increasing sales."

New display hardware will become mainstream
In terms of screen technology, new display types like OLED, electronic paper display (EPD) and transparent displays, and new resolutions like 8K, which are currently niche technologies, will start to become mainstream during the next few years. Even now, the breadth of options available in display hardware can make choosing screens a difficult decision for end users, with LCD, OLED, fine-pixel LED, Micro LED and projection solutions available. Support from specialist integrators and signage experts will become essential to help new buyers navigate the market.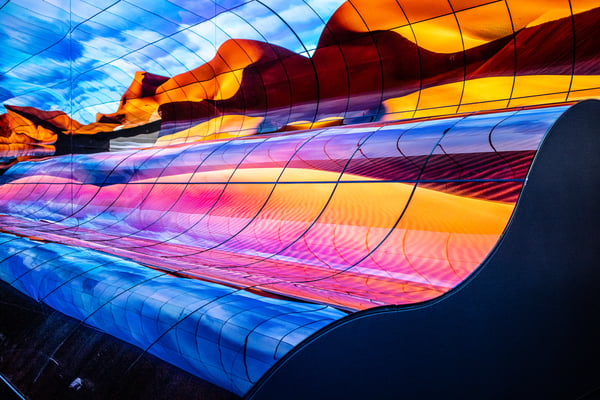 Digital signage solutions will become smarter
In 2020 and beyond digital signage content management systems will continue to evolve with new features for tailored and targeted content, some based on AI (artificial intelligence) and Internet of Things (IoT). We talk about some of the main IoT trends in a previous post, but to give an example, with proximity marketing solutions you can set up digital signage to display content to customers based on their interests. Responsive digital signage uses data captured from people's behaviour online to customise offers and information to be shown in-store.
From a customer's point of view, this would work as follows: you really like a clothing store, so you download their app for quick purchases and to get offers and news. You walk into their store; they have sensor technology that recognises you and triggers a welcome message that shows on a digital signage display. Data from the app includes what you were last looking at, so signage in store directs you to the item, while at the same time sending a discount code to your phone. In this way, retailers can provide a more personal service and better join together their digital and physical store offers.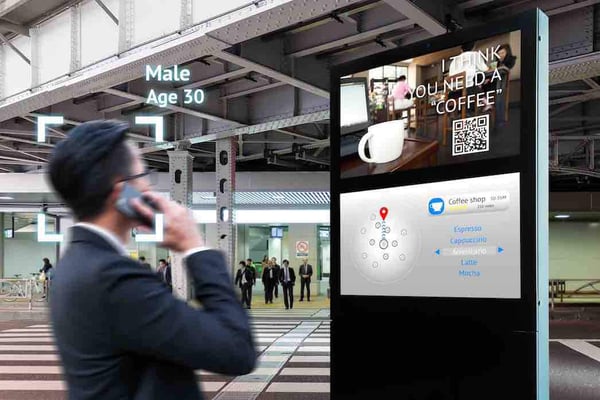 Digital signage will support smaller stores
Invidis consulting has identified five emerging trends in retail, where digital signage will be important for retailers. Here we look at two of these: firstly, how signage can help consumers to make sense of smaller store layouts. Competition from online only retailers and the increasing cost of rents and rates have created difficult conditions for high street retailers to maintain large shops and there is a growing trend for smaller boutique-style stores and outlets.
Invidis has identified a trend for micro shop formats, including container solutions, which can be operated autonomously. Signage is a key part of these cost-effective layouts, Florian Rotberg, Invidis says, "Digital signage displays provide information on current offerings, enable context-sensitive (e.g. time-of-day or weather-dependent) promotions and act as a platform for transactions at the point of sale." Interactive digital signage can also be used as an ordering screen by shoppers, who can select an item, then pay and collect their purchases.
Sustainability will become a driver for digital signage and for innovation in the sector
Plastic-free shopping has become a mainstream consumer demand and many retailers are trialling zero or re-usable packaging. This trend will continue as consumers pressure companies to act on waste. Invidis predicts that digital signage will replace traditional packaging in some instances: "Without digital signage and ESL (Electronic Shelf Labels), plastic-free dynamic product information is almost impossible. Daily updated prices, ingredients, nutritional value, origin and shelf life information must be displayed at the PoS (point of sale)." Digital signage can also be used to give more in-depth information about producers to help consumers choose what to buy.
Sustainability will affect the market more generally as consumers call for greater accountability on climate change across every industry and sector. In their upcoming conference, the Digital Signage Summit organisers will ask if the industry can avoid display-shaming in a climate change society. Hardware manufacturers will increase R&D on efficiency as they will be required to be more transparent about the power consumption of their products. They will also need to use more recycled materials and provide better recycling schemes. End user businesses will also need to be open about how much energy they use and have an energy strategy for signage – content management can help here, for example, managing periods of black out overnight across a fleet.
2020 is set to be another exciting year for digital signage, with innovations in hardware, in software and in use cases.
Cenareo offers an intuitive, scalable SaaS solution perfectly adapted to the needs of communication professionals in all sectors of activity. Outlets, Internal communication, Hotels and Restaurants but also DOOH.