The challenges of internal corporate communication are considerable to successfully meet objectives and promote the employer brand. New uses have placed employee interactivity and involvement at the heart of an impactful and successful strategy. But what are the internal communication objectives and how can they be achieved? See 9 examples of internal communication strategies deployed in companies.
Video communication
The strength of video is its ability to captivate and convey emotions: fun and accessible, it arouses and keeps people's attention. It is an ideal format for internal corporate communication, thanks to its dynamism and the immense room for expression it offers.
Internal communication: example for training
Training is key for companies: it keeps employees up to date and develops their skills. However, it is costly and the necessary logistics are burdensome. By using video-based training, these constraints can be overcome, and the processes and spending can be optimised and there are other benefits too. Filming your training sessions (procedures, tutorials or onboarding videos for new hires) offers enormous time savings and reduces the obstacles involved in organising face-to-face training.
Pagliacci Pizza, a chain of restaurants based in Seattle, USA, has seized the opportunities the video format gives to offer tutorials for in-house training. Simple but indispensable actions for making a pizza are thus explained through video. Its short format, the demonstration of the step-by-step actions and the illustrated explanations of the presenter, make it a very effective training video to show the restaurant's employees how to master the essential actions.
Internal communication: example for bringing people together
A spontaneous video brings people together, makes them feel they belong and increases commitment. It is therefore ideal to capture the events that structure the life of the company (seminars, conventions or specific projects) and to share their highlights afterwards. Behind the scenes of their preparation, interviews highlight the contributors: this is a great way to give them the opportunity to express themselves and demonstrate their skill, investment and role in the company. In this way, each person can benefit from a space to express themselves to relate their experience, their occupation, their motivations and their achievements.
For this purpose, the company Axa has created its documentary series "AXA Next Stop". It shows a communications officer of the company who travels to the countries in which the entities of the group are located. Thus, he meets other employees to raise his colleagues' awareness of Axa's various markets around the world. In addition to revealing the everyday lives of other members of the entity, the documentary format provides a social angle, highlighting the human aspect of the business.
Internal communication: example for informing
The video fully meets the constraints businesses have to face: the lack of time and availability leaves little room for spontaneous meetings of informal discussions, except among colleagues working together on a joint project. As a result, those employees not involved in it are unlikely to follow how it evolves. The video is therefore recommended to disseminate information to as many people as possible, with the aim of involving all of the company's employees even if they are not part of the project in question.


The bank N26 has used video to continuously communicate on a project that brings together several teams to explain how each team is involved, their objectives and the milestones. It highlights the project and the participants, but also the initiatives that they have taken to ensure its success. This use of video helps convey and bring teams together around the strong values of the company and reinforces everyone's sense of adherence to it.
Internal communication: example for strengthening
Video is a perfect medium for a communication strategy that places the company's values and identity at the centre of its concerns. It is a genuine form that shares the company's results and successes and refocuses on people to consolidate ties between the teams. It can also be a testimony of the commitments for a cause, which brings people together internally and strengthens the employer brand externally.

HomeServe is a company that provides home support services (repair, maintenance, plumbing, etc.) in the UK. The company organises meetings every two weeks in the form of "The Big Red Sofa," where the CEO and managers respond to questions from their teams. These are real interactive conferences in a less formal and more relaxed context, live video being an authentic, direct and spontaneous format. Through this strategy, the company focuses on the values that shape its identity: it takes care of and listens to its employees, in order to encourage them to take care of their customers themselves.
Offer a new experience
The main challenge of successful internal communication is its ability to bring together and involve all of the company's employees. In addition to bringing them together around common values and objectives, it aims to increase everyone's productivity and motivation. Today, the concept of interactivity is at the heart of the strategies deployed to instil a strong corporate culture to a company's employees.
Corporate applications
Many companies are developing applications for internal use to provide a way to stay connected to their employees. Their features are many and include real-time alerts, quick and efficient sharing of information and documents, etc. They are proving to be a fun and interactive tool that increases commitment, and efficient in measuring commitment KIPs: the opening rate and number of shares in particular.
CSN (corporate social network)
CSN is also experiencing significant popularity and is positioned as an interactive evolution of the intranet. It offers the ability to exchange messages instantly via its chat, in a less formal and more fluid way than email. User-friendly and adaptable, it allows you to create discussion groups for a specific project, to categorise thematic discussions or to share a common diary.
Digital signage
Digital signage is an ideal tool for promoting interactivity and disseminating particular information. It enables dynamic content to be streamed to a fleet of screens and has proved to be an attractive and fun medium which markedly increases memorisation. An information item can be circulated to the employees in real time. The Cenareo management system is simple and easy to use and allows bespoke contextualised communication.
Fauché, a company specialising in electrical installations and their maintenance for companies and public authorities has deployed this solution to better communicate with its employees, located throughout the country. Thus, the company is able to offer the same level of information to its teams, despite their geographical remoteness.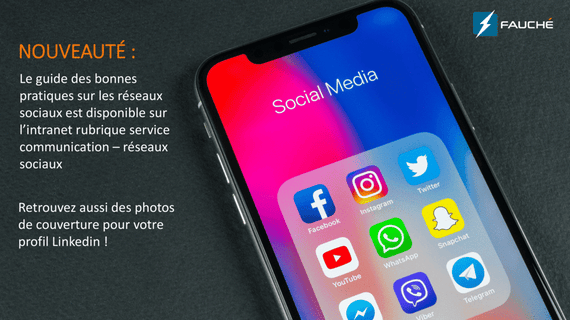 Gamification: Training through games
Gamification is a phenomenon that is increasingly of interest to companies to develop an internal communication strategy which brings people together and is effective. This process uses the mechanics of a game to foster learning and skill development. The notion of entertainment is a powerful way of creating a connection, but also is a way of involving your employees and increase their motivation, their commitment and ultimately their performance.
Motivating, encouraging and challenging
https://inwardconsulting.com/what-we-do/our-work/mcdonalds-world-of-good-gamification/
A game is based on a logic of success; once the goal is achieved it is rewarded. Challenge and reward maximise performance by stimulating motivation, concentration and satisfaction. By placing the player at the centre of the action, their sense of belonging is increased. Mechanisms of this kind can be harnessed to enhance the company's brand image and foster adherence of the employees to its values.
The American fast food chain McDonald's has deployed an online gaming platform for its employees. The aim is to test them through quizzes, so they use their knowledge. If successful, employees earn points, which can then be used to win prizes.
Engaging, training and boosting productivity, former et booster la productivité
http://www.fundacionmicrofinanzasbbva.org/en/bbva-microfinance-foundation-receives-award-for-best-internal-communication-strategy-through-game-based-training-technique/
Training through games can take many forms: quizzes to test knowledge, competitions to boost motivation, or team games to build and strengthen ties between employees. Regardless of its form, the game will always be able to let everyone's creativity be expressed. It will increase productivity and foster an ideal collaborative climate for achieving the target.

The BBVA Foundation has launched game-based training with "Heroes". This interactive training is aimed at strengthening internal communication from a pedagogical and fun point of view and has provided an opportunity to develop a sense of empathy and mutual help between staff.
Are you looking for solutions to bring your teams together and better communicate internally? Encourage your employees' adherence and attention with a unique experience and offer them exciting and relevant content on your fleet of screens. Cenareo supports you in creating, managing and broadcasting your campaigns with its digital signage management system. Make your company's internal communication a strategy in achieving your objectives, thanks to its interactivity and its strong power of attraction.