Digital signage is a communication tool that leverages the power and versatility of screens to convey the right messages at the right time. For large companies operating on multiple sites - or even in multiple countries - it is the perfect solution for optimising their internal communication. But you still have to choose the right solution for this, because the screen is not everything. Indeed, the software solution is what can make all the difference behind the hardware. This solution can send differentiated, personalised and manageable messages, both by your head office teams and by those present locally, in a business unit, a country or a region.
The time has come for you to be able to manage your screen network efficiently, thus avoid lost efficiency, time and money.
Simple, centralised management for well-informed and connected teams
Internal communication plays a vital role in large companies. When your employees are spread over dozens or hundreds of sites, it is the bond that holds them together. It vehicles the group's values and social commitments. It also facilitates the integration, onboarding, loyalty and commitment of your employees. Hence, you need the right tools to meet your commitments.
With a high-performance digital signage system, granular management makes it possible to differentiate messages. The researchers in your laboratory, the workers in your factories, the managers in your head office and the salespeople in your stores do not have the same needs. With the digitisation of internal communication, it has never been easier to customise your messages and deliver them to your teams at the right time. The information is always relevant and you don't waste time in sending it to the right target. And there's a problem if you need more than five minutes to do this.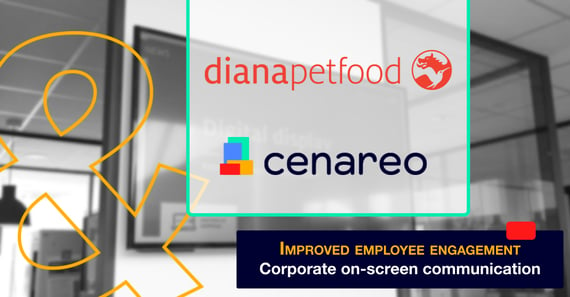 Key features for optimising your internal communication
While message differentiation is important, it is not the only feature that needs to be integrated into your digital signage solution. You should also factor in the following to optimise your budget and resources:
A multi-user management to delegate creation and publication rights according to your organisation. This allows you to define who is allowed to publish on which screen. This is key when you have local relays strongly established in a region. You cannot be aware of all the specifics from Paris, in contrast with your local teams.
A model in SaaS mode with subscription to anticipate and control your budget while benefiting from customised support. A turnkey solution that simplifies deployment.
A single partner to manage your fleet of screens, who can intervene on both hardware and software.
A multilingual model to adapt your communications with the same system, using multilingual management and screen groups to adapt the content easily to each language.
A system for detecting malfunctions or disconnected screens that will allow you to receive alerts if problems arise to follow the explanations and actions of the support service. So you don't have to worry about the famous black screen anymore.
An intuitive, easy-to-use platform with many templates and predefined models that ensure

full compliance with

your graphic charter.
Express training for content managers, getting them started rapidly and giving them autonomy in the simple and real-time distribution of all the information in your internal communication: images, videos, text, animations, RSS feeds, etc.
For further information on digital signage, modernising yours or digitising your internal communication, our e-book 'Digital signage for business growth' is perfect for you.