A key location in companies, through which your visitors, suppliers and employees pass. By adopting a screen-based communications policy, you will impress your customers, suppliers and visitors thanks to a personalised welcome in your reception area, or in all areas receiving your visitors: waiting rooms, lobbies, lifts, etc.
→ Here are some ideas for enhancing these reception areas and transforming them into a useful communications medium.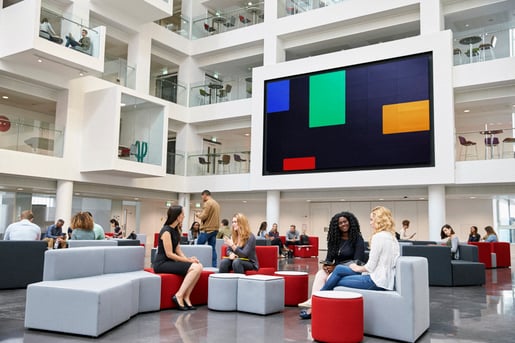 The "brand" experience starts in reception
The company's DNA and values must stand out on entering the premises. As such, your reception area must be flawless. Indeed, you will never have the opportunity to make a good impression on a second visit from a customer or for an applicant to a strategic position! That is why it is essential to ensure the reception area conveys the right image. Harness this space to communicate perfectly about your brands and the company's DNA. Remember that this is the area which employees, customers, suppliers, visitors, etc. frequent every day forming a long-lasting indelible image in their minds. What better than digital signage screens alongside appropriate furniture, decoration and lighting, to customise this reception area and use it to communicate your values?
Utilising the reception and waiting areas
Rather than having your visitors wait with tired, dog-eared leaflets and posters announcing a product launch 3 years previously, digital signage screens will attract people's attention and display their content in a contextualised way. They will tell the company story, give information about the launch of new products and services, report on the financial targets and results, the group's news, etc. Waiting time is used profitably.


Dynamic screens
Digital signage is used to good advantage in dealerships and company reception areas. With it, the company immediately conveys messages of its strong commitment and involvement in favour of causes which are part of its DNA: environmentally-friendly brands, the well-being of employees, the establishment of a social and environmental responsibility programme, etc. This is the case of Dalkia, the specialist of energy services and decentralised energy production. It invites everyone to take part in environmentally-friendly actions by displaying the energy performances of the buildings, simply and in an entertaining way. It raises awareness among visitors about the preservation of energy resources.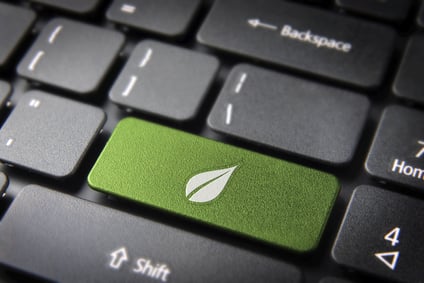 Agile signage for successful meetings!
Dynamic screens placed in the reception and shared areas of business premises can also be used to guide customers and suppliers to their contacts by showing them the way. Thanks to coloured signage and playful and informative messages, the visitors save time, no longer running the risk of getting lost in the corridors!
Cenareo offers a digital signage solution that reflects your internal communication: the management interface allows you to create, manage and disseminate all your messages on any communication screen.