With a cloud-based CMS system like Cenareo, it's easy to manage a large number of digital signage screens. And the location of the screens doesn't matter. In fact, managing what plays on 1,000 screens across 200 sites can be as easy as managing 10 in the same office. But how do you get to that point? Here we look at five considerations in rolling out digital signage screens over multiple locations:
choosing the position of screens,

creating content that suits different locations,

adapting your communications to local audiences,

scheduling when it plays,

avoiding blank screens.
Where to position screens in multiple locations
Your locations might be similar – if you are adding signage to the counters in a chain of restaurants for example. Or each one might be unique, like the regional offices of an international company. Either way, choosing a position for your new screens should be based on who you are trying to reach, where they will be and when. Defining this will tell you where screens need to be.
Screens need to be visible, in a prominent position that isn't obscured. What's on screen needs to be watchable and readable from a comfortable distance for the viewer. This is especially important if you're showing text, news headlines or stock prices for example.
In an ideal situation you would decide the location of your digital signage while a site is being planned or as part of a re-fit, fitting it into the design. If you are adding signage to a site later on, make sure to walk the site in the shoes of the person you want to reach. If you are not able to visit each site individually, assign this job to a local member of the team.
How to create content that suits your locations
Your content will need to suit the location of your screen. For example, if your screen is in a corridor, there's no point in using it to play a ten minute brand video. People will only ever see a few seconds. On the flip side, if your screen is in a waiting room, you have an opportunity to engage people with longer stories. If you are a fleet manager of screens in 200 sites, it's not going to be possible for you to visit all the locations, so make sure to work with your local teams to get a good description instead. Use this to tailor content so that each screen is as effective as possible. Cenareo makes this easy to manage centrally because you can segment or tag screens and send campaigns to different screen groups according to the format, the location or the position.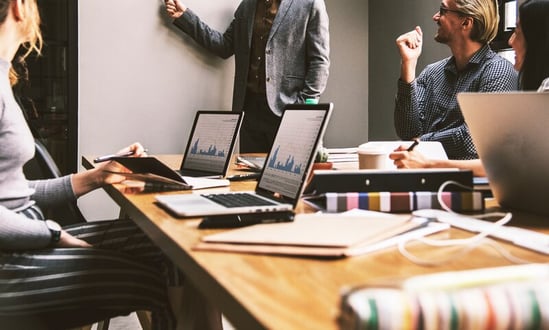 How to create content for multiple locations
One of the benefits of a cloud-based digital signage CMS is how easy it is to roll out the same content to any number of screens. But, for really engaging signage, you need to adapt your communications to local audiences. You might be deploying displays in several countries, so you will need to manage different languages. Ideally your content creators will be both your central marketing team and your local marketing teams - or if you are using screens for corporate comms, your central and local HR and communication teams. Your digital signage content management solution should support having multiple users and contributors who can add content, for example, Cenareo offers Co-operative Management, with different access levels for different members of a team. Another feature that's great for multiple languages is tagging screens by language and sending specific content out to those screen groups. This feature is highly used and appreciated by our customers who have offices in many countries, such as the international Diana Pet Food group, which is present in 14 countries and communicates in 8 different languages.
The same rules apply to content creation regardless of how many screens you will broadcast on; keep it simple and keep it fresh.
How to schedule content for multiple locations
The most effective scheduling will promote the right message at the right time based on a good knowledge of your audience. A local team is always going to be better placed to do this, so again you should use multiple levels of access on your CMS to share scheduling responsibilities. But when you are centrally managing screens, the main things to consider are allowing for different time zones and different national holidays. You will also need to consider variations in opening hours of your different sites. When planning your roll out, ask each local office or local manager for this information. With a CMS like Cenareo, you can centrally control every screen on your network. Having opening times means that you can plan when screens are turned off, for example overnight, saving energy across all sites.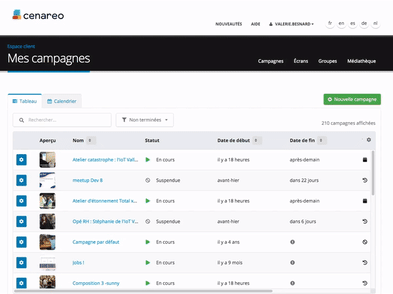 Scheduling allows you to keep your content fresh; make sure it changes for different days and seasons. The tone of your content should be different on a Friday afternoon to that on a Monday morning for example, whether you're using signage for corporate communications or to talk to consumers. And make sure to have default content ready for quieter times, or to provide a break between messages so you can shift topics.
How to avoid blank screens
And finally, a tip on maintenance. Blank screens are a fleet manager's worst nightmare. When you're looking for a content management system for digital signage make sure you choose one where you get alerts if a screen has become disconnected from the Internet (so might not receive any new content). At Cenareo our solution sends alerts when there is a problem with a screen, and because it's cloud-based we can fix most issues remotely.
Enterprises and companies with large fleets trust Cenareo with their digital signage because our system is easy to use, simple and agile. Installing 1000 players is almost as simple as installing twenty. They arrive pre-configured and once connected to power, give you will have full remote access to displays within ten minutes. Contact us about your project !