Digital signage is a great way to tell your brand story to your audience, whether that's your customers, visitors or team. Using a digital signage content management solution makes it easy to keep fresh, engaging content on your screens, however, if you have a large number of displays to manage and especially if you're new to signage, there are a number of things to consider to make the most of your campaigns. Here, we list some of our top tips for managing a large fleet of digital signage screens.
1/ Have a clear purpose
You got digital signage for a reason: it might have been to promote your offers and sales, to train your staff, to entertain customers or to build your corporate image. You might have different aims for different screens, for example, screens in customer-facing areas to advertise promotions and staff-facing screens for corporate updates. When building content for your screen network, keep in mind what you want the content to do; it can be easy to get 'content drift' where content creeps in that isn't 100% relevant or necessary.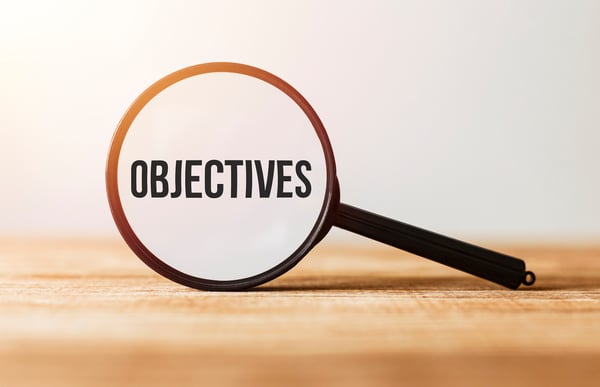 2/ Choose the right position
When you are installing many screens, or managing a large fleet, make sure you are placing screens where they are most effective. It goes without saying that people need to see them clearly, but think about viewing distance from different positions. Walk around the sites where you will put the screens and make sure they will be/are in your natural line of sight. You don't need to be limited to standard placements either, many companies offer wall mounts that you can tilt, ceiling mounts, and some manufacturers offer screens that can be positioned on the floor. Make sure that you're thinking about the amount of light at the site – if you want to put screens in a window, make sure they are high brightness and will still be effective in sunny conditions.
3/ Keep your content fresh
The beauty of digital signage is that you can change your adverts and messages as often as you like, without the hassle of print. To keep your audience's attention, make sure your content isn't repetitive, particularly if it's in a loop that someone might see many times over. Some digital signage content management systems (like Cenareo's) offer features including weather responsiveness and social feed integration, which are two powerful ways to keep your content fresh. With weather responsive advertising, you can set content to show under certain climatic conditions, giving your audience a highly relevant and engaging message. With social feed integration, you can add content from social accounts into your signage, which you can use both as a source of new content and for interaction.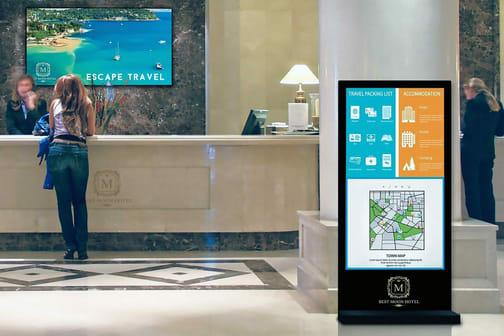 4/ Create local content
If you are managing a fleet of screens across different sites, for example a chain of shops, allow some scope for local content, which is more tailored and therefore more engaging for customers – similar to the feature of integrating social feeds and user generated content mentioned above. Your digital signage content management solution should support having multiple users and contributors who can add content, for example, Cenareo offers Co-operative Management, with different access levels for different members of a team.
5/ Use remote management
Once the number of screens in your fleet goes above a certain number, or beyond one physical site, it becomes necessary to be able to remotely manage them. Look for a digital signage solution that gives you the ability to centrally control and monitor every screen on your network. Firstly, you should be able to remotely control your screens' power on/off function so that you can plan when screens are turned off, for example overnight, to save energy and reduce your environmental impact. Secondly, you need to be able to monitor performance, not just whether a screen is operating, but if it is showing the content that it is supposed to be showing.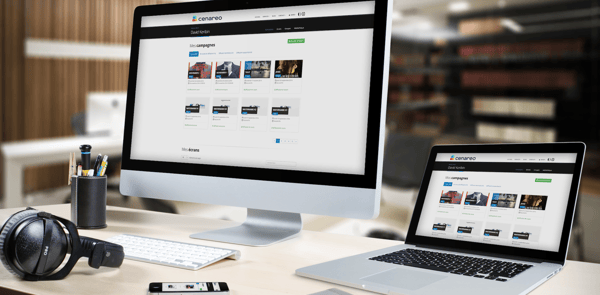 6/ Stay secure
Like any other piece of IT equipment, digital signage screens are vulnerable to attack unless they are properly protected. The consequences of an attack could be the screens being taken over and used to show inappropriate content, or it could be access to other parts of your system and your business' confidential data. The larger your fleet of screens, the more your vulnerability is multiplied, so you need to have a security strategy in place, developed with your IT department or manager. First steps include making sure all screens are physically secure, making sure all online access via your digital signage content management solution is password-protected and checking that your provider automatically uploads updates, security patches and new versions of its operating system directly from its servers for you.
Cenareo offers an intuitive, scalable SaaS solution perfectly adapted to the needs of communication professionals in all sectors of activity. Outlets, Internal communication, Hotels and Restaurants but also DOOH.
We support you every step of the way on your digital signage journey; we offer rapid, personalised support and assistance to each and every client. Get in touch to talk to us about your project.