There are now more ways to reach customers than ever before, so as an advertiser, how do you choose where to spend your budget? How much should you assign to DOOH versus online? Here we look at some of the advantages that DOOH offers compared to online advertising and why this channel continues to grow in popularity.

1/ DOOH reaches a large audience
With the decline in readers and viewers of traditional media and the fragmentation of audiences online, it can be complicated to reach a large number of people. OOH is one of few channels to be able to achieve this. There is also evidence to show that consumers are out of home more than they used to be, increasing the potential for outdoor ads to be seen.
The OAAA estimates that Americans spend 70% of their time away from home, a 50% increase in the last two decades.
2/ Programmatic technology makes DOOH easy to purchase
A major benefit of online advertising has been the ease of purchase and the ease of targeting. However, with programmatic technology, DOOH has caught up. Using software and real time data, ad sales are automated and can be highly targeted, served, tracked and measured just as effectively as online.
3/ DOOH is targeted, but not intrusive
There has been growing concern from privacy rights groups about the way that the online ad industry, search engines and social networks, use behavioural advertising to track users and build profiles based on the sites they visit, and apps used. Recently, a Wall Street Journal investigation found that popular health apps, including period trackers, had been sharing highly sensitive personal data with social networks.
Digital Out of Home ads can be targeted to reach specific audiences, but the criteria used are more environmental than personal, leading to relevant advertising that doesn't cross a line into intrusion. Ad targeting is based largely on location and time, or on demographics and behaviours identified via anonymous aggregated mobile tracking, e.g. direction of travel.
4/ More consumers are blocking online ads
Even when an online ad is relevant it can quickly become boring. When ads are remarketed and seem to follow you everywhere you go, 'ad fatigue' sets in. This might explain the increased use of ad blockers, used by 22% of internet users in the UK, 29% in France and 32% in Germany (eMarketer's Ad Blocking in the UK 2018).
Blocking is now spreading to mobile, research from AudienceProject found that 8 percent of mobile sessions detected people using an ad blocker in the UK in 2018, up from 2 percent in 2016.
5/ DOOH can be a positive part of the landscape
More than being 'unblockable', DOOH displays can actually have social benefits. Kiosks that are used for advertising can also be used as facilities for commuters or tourists, showing maps, showing the latest news or transport updates and offering free WiFi for example. They can also raise revenue for local councils.
6/ DOOH can reach people when they are most open to engagement
In indoor locations like airports or transport hubs, when people are essentially killing time, using DOOH to entertain with games and competitions, or share interesting information can be a very powerful way to build brand relationships. This is opposed to online advertising, which is usually a distraction a diversion when people are in the middle of an activity.
7/ DOOH is close to the point of sale
Advertisers can use DOOH near the point of sale to effectively drive people into stores. Because of the flexible and dynamic nature of digital, brands can use time-based and environment-based triggers to encourage 'here and now' sales. For example, the allergy medication brand Benadryl used screens near stores selling its products to display the pollen count, giving warnings when pollen counts were especially high.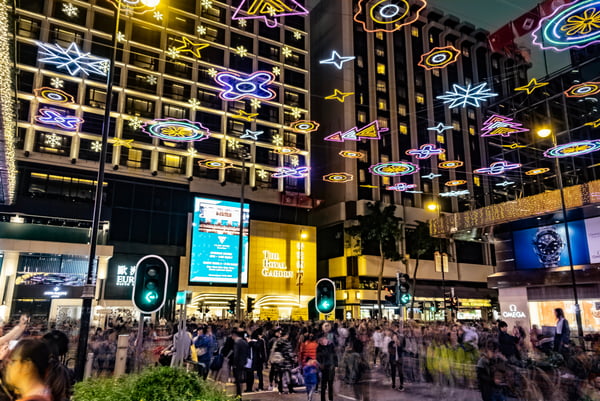 8/ DOOH is connected
Because they are digital, DOOH ads can be interactive. Using NFC and QR scanning, people can interact with an ad via their smartphones. Brands can use this to drive entries to a competition in exchange for customer data, to offer vouchers to increase sales, or even to offer free content, for example, Sony offered free music downloads via NFC at bus stops as part of a DOOH campaign. For brand building, companies might also use DOOH to increase social followers, by asking visitors to follow them, and share content to be displayed on screen.
Based on the above, it's no surprise that PWC found DOOH to be the second fastest growing advertising medium, after mobile (PWC Global Entertainment & Media Outlook 2016-2020). By including it in marketing plans, advertisers can use DOOH as a creative and fresh way to engage with an audience at times when they are more open to communication.
Cenareo offers an intuitive, scalable SaaS solution perfectly adapted to the needs of communication professionals in all sectors of activity. Outlets, Internal communication, Hotels and Restaurants but also DOOH.
To find out more, contact us and ask for a free demo.