Some definitions to understand digital signage
Digital signage
It has several names: digital signage, digital media, digital display, screen-based communication and many others. All of these terms conjure up a message on a display screen.
Digital signage solution
This is a software tool, or Content Management System (CMS), that allows you to control the displays on a network of screens. The CMS, often a platform accessible from your computer or smartphone, allows you to create and manage your messages on your screens centrally. Your content is displayed on each screen through the use of a player, often a unit connected behind the screen, or directly integrated in your screen.
Content
For digital signage this can be: digital images, videos, web pages, data, timetables, restaurant menus or simply text.
Display screens
These are professional screens such as LCD, LED, totems, plasma screens or projectors to display content. We find them in public and private environments: public spaces, airports, train stations, museums, stadiums, retail stores, hotels, restaurants or commercial buildings...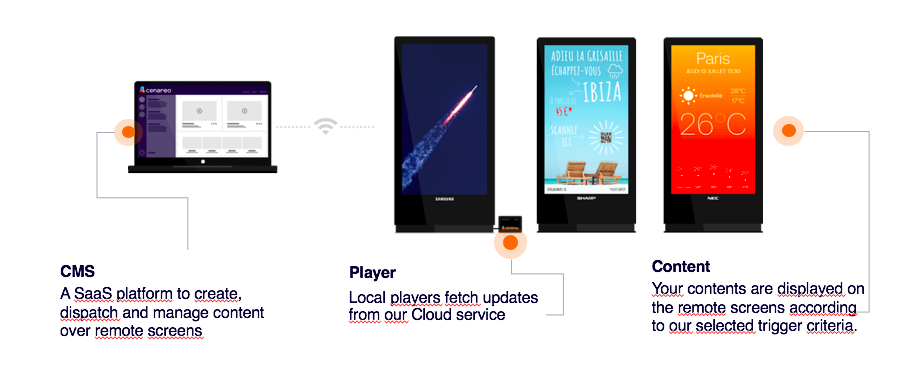 Advantages of digital signage
The use of the digital display opens up a world of possibilities. Its animated images and visually appealing graphic elements capture the interest of your audience and targets much more effectively than a static, poster-type display.
By equipping yourself with digital signage software, you choose the possibility to instantly update and modify the content and context of your communications. You then ensure that your display screens are always exciting, up-to-date and relevant.
Digital signage is the ideal tool to boost your business, points and increase the productivity of your business. Its great adaptability enables it to modernise the image of a brand, promote the know-how of a sales point or reception area, or rally employees.
Digital signage is also ideal to revitalise a reception area, promote in pharmacies, provide information in restaurants, get people to wait or guide them in administrations and institutions, provide information and welcome in tourist offices or real estate agencies.
This new communication channel is a genuine bridge between the online and physical sectors. It is therefore complementary to the rest of the communication strategy of a brand or group:
'We regularly recommend that our customers move towards a digital signage strategy in stores. The idea is then to develop good visibility at the sales point in addition to their digital marketing strategy.' B. Leclerc - Votre Agence SEO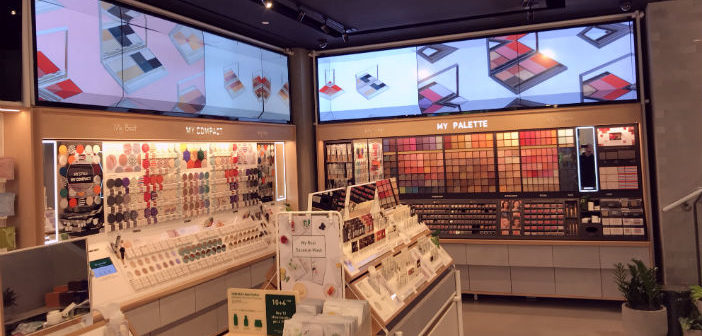 Going further with interactive digital signage
Give your messages a new dimension by interacting with your customers. Synchronised to a smartphone, tablet, QR code or button, broadcast content can be user-triggered.
In addition to engaging your prospects or customers, interactive display allows you to learn more about them through data-driven marketing. For example, you can launch a promotional program where customers can sign up to receive email newsletters or participate in a survey in exchange for a discount. You can refine the messages over time and make them ever more relevant to the target.
***
Things to remember
Digital signage consists of three elements:
A software solution, or CMS, accompanied by its player to manage the screens, messages and their display context
The content, i.e. the messages
Screens: professional or simple TV screens
It is used in the retail sector, in shops, by DOOH advertising agencies, but also for internal communication and establishments receiving the public. As an information and promotional tool, it can also be interactive.
The new digital signage solutions allow you to automate the broadcasting of your messages thanks to context criteria: weather, stock status, traffic, etc.
If you have any questions, please ask our team of experts to learn more about our digital signage software.
Cenareo offers an intuitive, scalable SaaS solution perfectly adapted to the needs of communication professionals in all sectors of activity. Outlets, Internal communication, Hotels and Restaurants but also DOOH.