Finding the ideal spot for your digital signage screen, a highly complex and tedious task since there are so many details to take into account (target audience, technical constraints, light, contents…), can become "mission impossible" when the objectives of the project aren't clear. It is however a strategically important step, considering the relatively permanent character of the setup, the effort, money and time that's invested. Thus, asking yourself the right questions to place your screens well is crucial, in the same way as avoiding location errors. While studying your potential sites and analysing your locations, here is some advice to help you find that perfect spot!
#1: Identify high traffic areas
Except if your target audience is one whose movement habits you know perfectly well and these differ from the majority, privilege locations with a steady and recurrent stream of people (statistically, screens in this kind of zone have more chance of being seen !). This may seem self-evident, however it's not rare at all to find screens installed in poorly attended zones or turned towards practically empty areas. The position of the screens may stem from an ancient setup of the location which is no longer adapted to its modern-day form, the cleaners (or employees inconvenienced by the luminosity) could have turned the screen to better do their job. It then becomes important to regularly check that the screen is turned towards well populate areas, and to adjust the angle of position if need be.
#2: Big screen, small screen: size and usefulness
«The bigger the screen, the better the message will be received»! Poppycock! Here again there are so many different cases that it's impossible to generalise for all situations! Note: we absorb more and more information from our smartphones, yet the screens are relatively small! The race for size is not a necessity, rather, it's more important to understand the uses : if the visitor will be close or very close to the screen, a smaller screen will be more efficient, most notably if a lot of information is broadcasted, and even more if the screen is generally used by only one person at a time (large, unpleasant eye movements will then be avoided). However, a large screen will make it possible to show texts in a larger font and make them visible from further away in order to reach multiple people at the same time and to attract attention more easily. Make sure to adapt this advice to the context, however privilege smaller screens for waiting areas, in which the visitor will be closer to the screen and looking for detailed information (close by the products for example) and large screens in zones where there is a lot of passers-by, or at least in high traffic areas to attract the attention of the largest possible amount of people.
#3: Observe… understand… notice...
Your target audience, the people you want to reach, have a mission! It's quite rare to see them roaming around the streets, shops or company hallways in search of a screen they could look at for hours. They more probably try to complete some kind of task (don't forget anything from the shopping list, find a specific product, get a document to the accountants, get a coffee…), and they are concentrated on it. In this context, screens could seem invisible, or at least of no importance. However, once the mission is accomplished, everything changes, the concentration dissipates, the mind frees up, and becomes more receptive to surrounding messages.
Isn't this the ideal moment (place) to show your message to your audience? Evidently, this comes only with thorough knowledge of the target, either by already knowing its habits, or by studying it.
#4: Think like your targets
It is, of course, impossible to place screens on every free wall of a location, establishment, room… and hope your message will be seen in that way. A much more interesting alternative is to walk around in the room and wonder, "what would my target do here? And here? What will they think about? Where will they naturally look? Will it be walking around or static?" (more information on waiting and passage zones) In the case of a supermarket, let's take the car department as an example: a person looking at the motor oils will necessarily think about its car, thus a screen placed beside the oils could promote another car-related product…
In the same way, is it truly a good idea to promote a product at the checkout, when the entire shopping list is already crossed off and you'd have to return inside the shop? Maybe chewing-gums, if they're sold at the cash-register, or maybe just a message "for the road", or a "message for next time", all of these options would doubtlessly be preferable.
Identify the moment when your target audience needs information, and give it to them exactly at that moment. Not only will your messages have a greater impact, the audience will be thankful.
#5: Follow good examples!
When it comes to placing a screen, in the same way as creating content, take your inspiration from signage systems that work! An excellent system could be that of road signage: no extras, the right sign at the right place, sufficient amount of signs so that the driver doesn't feel lost, or under informed, not too many either so that he wouldn't feel overloaded and risk him not reading them anymore. This example merits some analysis: a simple and effective colour code, a number of clear words, the essential, a font that's legible from afar, in a large font size, and some pictograms to illustrate the message. The idea that the sign shows is understandable in one glance, without stopping or even slowing down. When the message is long it's cut up in multiple shorter ones, all displayed all in their turn, in a logical order. There certainly is something we can learn from that!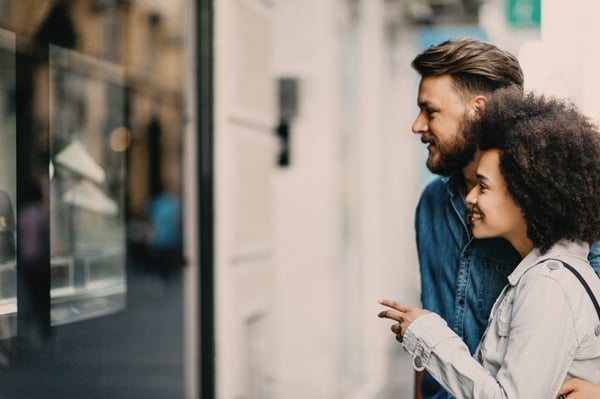 The placement of screens: why is it important?
Demographic, personality or mentality differences of the visitors between two locations, or two audiences can cause large behavioural differences and can show in the different ways of travel, the expected information's, and the way the screens are looked at. A good understanding of the targeted people becomes a necessity to guarantee a broadcast of the right message on well positioned screens.
Excellent content on a badly placed screen will probably have as much effect as bad content on a perfectly placed one, or as content addressed to the wrong demographic. None. Beyond identifying the target of your communication, detecting the best spots for your screen or creating the best possible content, it is crucial to link all these elements between themselves and integrate them into the greater communication strategy that is being installed.
This is the practice that will lead to the best results… while keeping in mind the objectives of course!
You have a digital signage project, ask for a free demo.