The future of retail includes challenges unforeseen at the start of year. As coronavirus pandemic restrictions start to be slowly lifted in many European countries, non-essential bricks-and-mortar retailers face the short-term logistical challenges of reopening, and the longer-term challenges of rebuilding customer confidence. From social distancing measures, which will be with us for some time, to increasing services like click-and-collect and home delivery, how can digital signage help support retail during and after the pandemic? Here we look at the ways that signage technology can be used to talk to customers in a professional and reassuring way, and how it can be used for internal communications in the storeroom or warehouse.
Queue management
Maintaining social distancing is a strange challenge for retailers, whose goal has always been to get more people into their stores and keep them there. Social distancing puts the idea of creating experiences on hold, it forces retailers to limit customers and get them in and out as quickly as possible, managing queues in a way that they may never have done outside of very special events. How do they approach this?
When a retailer has calculated how many people are allowed in store under local regulations, they then need to work out how to communicate this. In large supermarkets, this has been with bouncers and store security at the door or for smaller grocery stores, simply a handwritten sign. A more sustainable and professional option is to use digital signage to give customers instructions. There are many ways to do this from the simple, showing the number of people that can enter, to the more sophisticated, like linking signage to people counting software that gives a real-time count of customers and shows a green light when it's safe to enter.
For example, Philips Professional Display Systems has launched a new range of intelligent queue management camera/signage solutions, which are currently being installed by some of the world's leading retailers, such as H&M, Primark and Footlocker.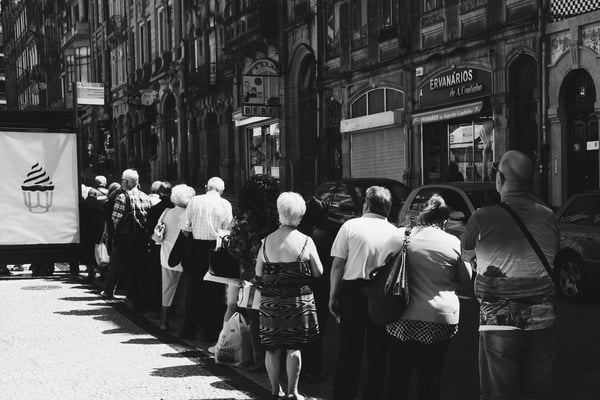 Click and collect services
During lockdown some non-essential retailers were still able to operate by starting a delivery or click-and-collect service. People are unlikely to feel comfortable mixing in shops until the crisis is over so it makes sense for retailers to continue, or to start this to supplement their traditional in-store business. Digital signage is a key component of click-and-collect. It can be used for wayfinding signs to the collection area and showing the numbers of the customer orders that are ready through to fully-automated systems where customers enter their order information at a kiosk and then get directed to their collection area. Some kiosks are interactive touchscreens. Touchscreens, already criticised for harbouring germs before coronavirus, are not ideal solutions right now, unless cleaned frequently. Contactless solutions like phone scanning and contactless payment will be more comfortable for customers.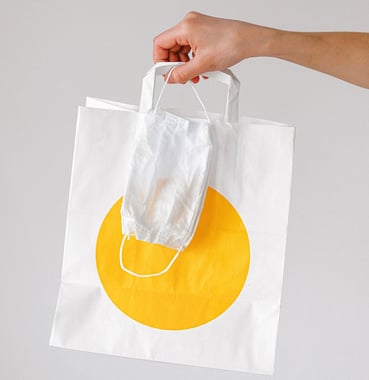 Order information in the warehouse
Digital signage is also an important technology for the stock room or the warehouse, especially for retailers setting up new delivery services. It can be used to show real-time inventory data and directions to people who aren't based at desks. It's also useful for safety awareness by promoting warnings and guidelines, especially around the social distancing required in the warehouse and the need to wear masks – new restrictions that people will need to acclimatise to. Just like reassuring customers, it can also be used to reassure staff, for example, showing how long the last clean was and when areas will next be sanitised.
Product availability updates
When lockdown was first introduced across Europe, people panicked about the retail supply chain, for example, buying toilet roll to the extent that shops had to restrict how much each person could buy. While panic buying has eased off now, there are still temporary shortages of products like hand sanitiser and flour. It is helpful for customers to know if popular items are available or not while they are queuing or before they enter. Again, digital signage is a more professional way to do this than writing handwritten signs. It can also be linked to a store's inventory and be automatically updated, alongside the next delivery date, having a promotional purpose too.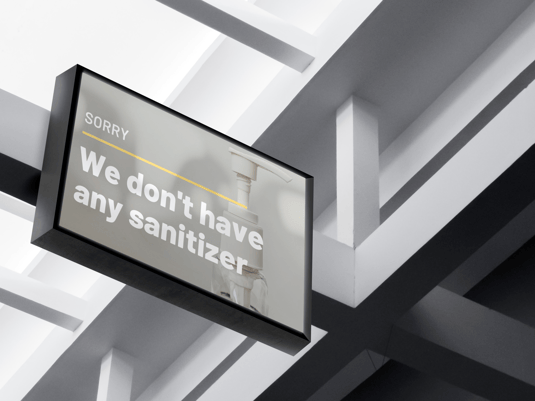 Safety information
The beauty of digital signage is that it is dynamic and easy to update. As rules and guidelines are likely to change throughout the crisis, it's a good solution for communicating with customers about the changing situation. For example, it can be used to remind people that they need to wear masks, to direct them to sanitiser stations and to reassure them about the hygiene measures that a store has in place. Reassurance will be crucial to getting us back to regular shopping and sharing information is one effective way to provide this.
Existing digital signage set-ups can be adapted - or new ones installed - to help retailers cope with communicating new restrictions and new business models. The way that retailers use digital signage will change, with new goals and purposes. And while the messages might have changed, the usefulness of signage as the medium has not. To talk about this in more detail or for advice and support about your retail project, get in touch.