Customer experience is a powerful differentiator. In the retail world, for the same products and prices, customers will always favour the brand that can make its point of sale more attractive and efficient. Digital signage, with its motivating, contextualised and always up-to-date content, plays an important role in the attractiveness of the store, the perceived waiting time and the experience.
Waiting time: a source of friction to be addressed
Occupied time passes quicker than unoccupied time. This is what researcher David Maister explains in his book, 'The Psychology of Waiting Lines'. The more retailers are able to divert customers' attention and minimise boredom during the downtime of a purchase, the faster time seems to pass. Displays strategically placed at the points of greatest friction can subtly mislead, inform or entertain customers, while reinforcing the brand image of retailer networks.
In the case of supermarkets, the two most critical moments are waiting at the checkout and searching for information when staff are unavailable. For agencies or the sale of services (catering, tertiary sector, etc.), customers must wait before being seen or wait if the professional is delayed. These are all key moments that require a reduction in perceived waiting time.
There are several strategies that can be applied to lessen perceived waiting time:
Inform the customer

about the reasons for the wait and the waiting time with dynamic signage adapted to traffic flows.

Turn this moment into a useful time

: present informative content on the screens, generate better knowledge of the offer, create brand commitment, etc.

Add a playful side

with interactive games, promotional operations, contests, etc.
Case studies: how these 3 major retailers have improved the customer experience in their stores
Best practice is only useful when shared. Here are three concrete examples for inspiration.
Boulanger: improving customer experience at the checkout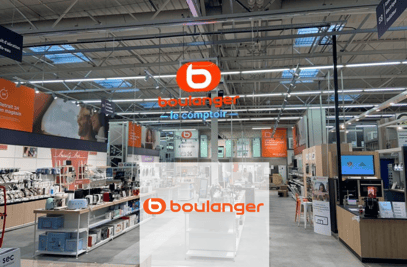 For the household goods specialist, digital signage plays a key role in capturing the attention of customers waiting at the checkout. On the screens, Boulanger promotes its products and offers, and broadcasts content from its partner brands and suppliers, all the while anchoring itself in local reality to maximise the impact of its communications, particularly with messages suited to its catchment area.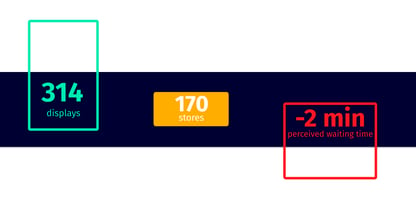 In-store studies have shown that the customer experience was enhanced at the checkout. The actual waiting time was measured, then compared with the time subjectively experienced by the customers. This was 2 to 4 minutes shorter for customers with access to a digital signage screen, contributing to a better checkout experience.
Axa : interactive screens to keep customers waiting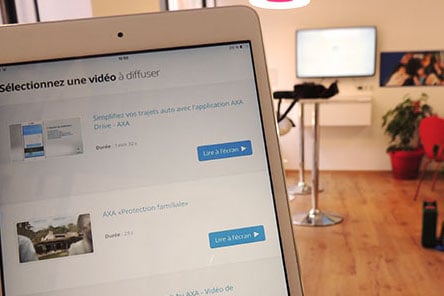 The agency was looking for a solution to welcome its customers, inform them about new products and offers, and reduce their perception of waiting time. Installing an interactive digital signage solution and providing a tablet means the visitor can access a library of videos that they can choose to broadcast on the screen. This allows customers to browse predefined content to search for information on the offer most relevant to them, resulting in 53% higher message recall.
PPG Industries : enhance waiting time in Comptoirs Seigneurie Gauthier stores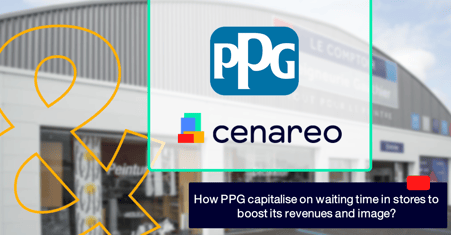 In the 200 paint and varnish shops for private and professional customers, customers must wait while their order is being prepared To limit perceived waiting time, the company has designed a friendly space where customers and sales staff can chat over a coffee, all with connected screens that relay the brand's communications (news, sales events, promotion of offers and services, etc.). Waiting times have thus become moments of sharing and brand enhancement.
Where it cannot be avoided, waiting time must be controlled. To do this, you can create moments of information and complicity to keep customers' minds occupied and limit frustration, as we have seen in the previous use cases. A set of screens that can be remotely controlled means you can facilitate the management of your communication at the point of sale and optimise customer experience in all your stores. This is a great way to combine return on investment and customer experience.