💰 Use your displays as a digital signage advertising network and generate income.
Your digital signage network is a valuable resource. If you use it to reach a large and engaged audience, then other businesses could be doing the same. Here we look at the concept of turning your in-house or in-store screens into a digital signage advertising network to generate extra revenue. We look at the technology you need, what to report back to advertisers and what prices to charge. Cenareo customer, the French wine and beer cellar franchise VandB, uses its signage network of 180+ screens to launch new beverage brands, we look at how they have developed a sideline as an advertising agency.
🤝 The benefits to you and the benefits to advertisers
Every business has an audience of existing and potential customers that other companies will also want to reach. If you have built a digital signage network to communicate to your audience, then you already have a digital signage advertising network in waiting. Opening it up to appropriate brands could mean that you completely cover the costs of running the network, making it free for you to operate. Depending on how much time you want to offer and the size of your advertisers, you can even make your network profitable.
Your offer to potential advertisers is access to an already engaged audience. If you operate a retail chain, for example, then customers in your stores are already intending to buy. By advertising on your screens, they are able to reach people close to the point of purchase and increase their sales. For non-retail, there will be complementary businesses that can increase their sales or brand-build by being on your network. For example, a pharmacy chain advertising in a network of doctors surgeries, or a taxi business advertising in cinemas.
🔁 Technology required: automation and reporting
If you already have a digital signage solution that works for you then you likely have all you need to turn it into an advertising network. You will need a content management system that includes scheduling and reporting tools, operates remotely and is easy-to-use. You will be offering advertisers the opportunity to show content on your screens at certain times and in certain locations, so you need a system that makes it easy for you to do this. You want to be able to do everything remotely so that you don't have to waste any time manually putting content onto screens at your different locations with USBs etc. You want to be able to do remote maintenance on your screens and be able to check centrally that your screens are operational. You will need to report proof-of-play back to advertisers to show that their content was broadcast at the times and locations agreed. A data-driven digital signage CMS will enable you to do this.
📅 Scheduling advertising content
When you're scheduling content, all the normal rules apply: promote the right message at the right time based on a good knowledge of your audience. Keep your content fresh with a mix of content. Make sure that it changes for different days and seasons and that the tone is right for the time of day. The extra challenge you have with turning your digital signage network into an advertising network is how much time you want to give away. How much time do you want to keep for yourself? Different times of day will be more valuable than others - do you want to keep some of those slots, or sell them for a higher price? Don't completely fill your schedule with ads.
📈 How much should you charge?
How to decide on the price of ads on your network depends on the size of your audience. What stats do you have to show footfall? Your price won't be the same throughout the day, you can charge more for busy periods and less for quiet ones. It also depends on how much you think your partners will be willing to spend. Target only relevant brands and tell them why being on your network will benefit them. Experiment with pricing to see what rates work best for you. Calculate how much you need to cover the running costs of your digital signage solution divided by number of screens and time slots and start from there. You could also consider different types of payment, depending on your business. Is there a contra-marketing deal that would help your business? That may be just as valuable in the long-term.
🍷🍺 Monetising screens by launching new brands
Cenareo customer VandB is a chain of franchisee-run wine and beer cellars, dedicated to helping customers discovernew tastes and share good times. Through its network of more than 200 stores, VandB has a customer base of 860,000 contacts. The company decided that its in-store digital signage screens - seen by in-store traffic of 9.5 million customers per year - was an ideal advertising network for new beverage brands. They already knew that featuring products on their screens could lead to a tenfold increase in sales. Seeing the business opportunity, VandB sells communication slots on its displays, offering its supplier the chance to reach a very targeted audience.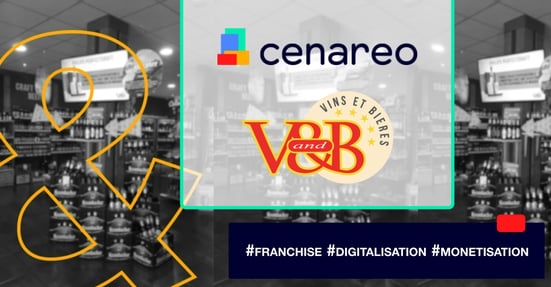 It is a boost for the franchisees, who, through the financial revenues generated by these activities, offset some of their screen deployment costs. They are twofold winners: screens at a lower cost, relevant, controlled and tailored communications, and precise inventory management (the sales of certain brands are linked to their displays on-screen). VandB has created the opportunity to make its screens profitable, while continuing to use them to communicate its own brand messages.
For more advice on making money from your digital signage network, contact us for a chat. Cenareo's easy-to-use content management systems includes all the features necessary to turn your digital signage into an advertising network. We can also work with you to develop bespoke solutions.