Axa Agency - Isabelle Darmau – Toulouse
Dynamic and interactive display to enhance the customer experience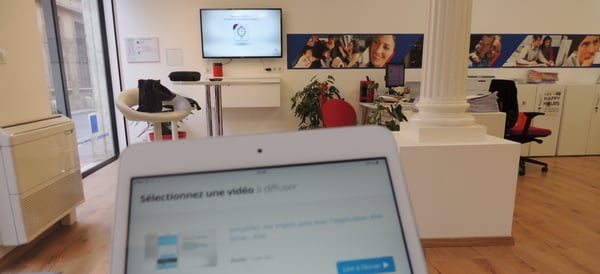 As part of the refurbishment of the agency, the reception area has been the subject of reflection around the concept of "customer experience". In addition to creating a friendly and modern space, the objective was to find a solution to welcome, inform and reduce the perception of waiting time; create more interactivity with the insured while delivering messages.
Two customer constraints
Interactivity: solution without touch screen (not suitable for use)
Real-time delivery: users choose which content to deliver instantly
Cenareo's response
Provision of a tablet but also possibility for customers to access the control interface directly from their phone
Using the Cenareo solution's remote control mode, which allows instant broadcast on shutter release
A tailor-made information tool
In a waiting state, the insured receive the information proposed by the headquarters on the screen installed in the reception area. Thanks to a tablet placed at their disposal, they can also control the screen and broadcast one of the media proposed by the agency. Thus, they can inform themselves independently about the Axa offers. It is more receptive to the message (memorization of a 53%* more important message via dynamic display).
The solution allows the agency to offer corporate content created by the group, to deliver content across its entire range of products, but also to present content specific to the agency to reach its target audience.
« We noticed a better knowledge of the offers among the insured who used the solution. The insured takes the time to analyze the offer, to choose what interests him, he becomes more prescriptive but is also more familiar with the brand. For employees, it is a real sales tool.»
Isabelle Darmau, General Agent Axa
Benefits
During peak hours, the feeling of waiting is reduced. By taking control of the screen, the insured are more engaged with the content and are thus more receptive to the messages. The agency has a positive image and, by analysing the most triggered content, can improve its communication. Indeed, the solution's analysis tools make it possible to accurately monitor the impact of their releases and the insured's expectations and thus improve communication in real time.
Testimonial
Isabelle Darmau, Axa's independent general agent, has chosen to work with Cenareo for the implementation of this project. Initially without a screen, Cenareo advised her and provided her with all the material necessary for the project:
« The solution was packaged so that we only had one contact person to equip us with the screen and the solution, which encouraged rapid implementation. »
« We appreciated the support of our contact and the fluid interactions with him. The combination of innovation of the offer and ease of exchange convinced us to trust Cenareo for the deployment of other solutions for our agency, such as our screen in the display case. »
*Liveposter 2016
You have a digital signage project, ask for a free demo.