We have talked a lot about how digital transformation and online shopping has affected bricks and mortar retailers, and high street banks and insurance companies are no exception. Internet and mobile banking has changed how customers interact with their banks, reducing the number of activities that need to be done face to face. Using a retail digital signage solution to engage customers therefore becomes really important during those times that people do make a physical visit to the bank.
Improving the brand perception of the bank
Online banking has raised customer service expectations, so physical banking needs to be updated to make sure it provides a modern look and feel. Using retail digital signage in the reception area of a bank or insurance company to welcome customers can help you to achieve this.
By displaying branding from campaigns that you are running in other types of customer communication, you nicely join up the online and offline experience, providing reassurance that the customer is dealing with the same company.
And because it's digital, signage can be updated quickly and display live data, for example, exchange rates, stock prices, interest rates etc. Again, this can help to promote that seamless online and offline experience.
Reducing waiting time
Online banking has reduced footfall into financial institutions, so many companies have closed some high street branches. This can increase pressure on the remaining branches, making them busier and meaning that customers have to queue at peak times.
Digital signage can reduce both the wait time and the frustration of waiting. Using signage to manage a queue – for example, directing people to the next open till – can reduce checkout time, or perceived checkout time by as much as 35 percent. As well as company information, you can also show news and weather feeds to keep content useful and interesting.
Selling new services
When you have customers waiting inside the bank, it's a good opportunity to interest them in other products and services. Because retail signage software is so easy to update, this marketing can be kept seasonally relevant, you can even make it interactive so that people can browse the offers that are most engaging to them (see our case study below).
Screens can be placed in the windows to both encourage people to come in during opening hours, and to advertise online services and ways to contact the bank when it's closed. Subject to local regulations, it can mean that the site is acting as a billboard so you are getting additional return on the cost of your building.

Case study: AXA Insurance
Cenareo customer AXA Insurance was refurbishing its high street locations and considering how to improve the customer experience. As well as creating a friendly and modern space, the company wanted to find a solution that would welcome customers, inform them about news and offers and reduce the perception of waiting time. With guidance from Cenareo they chose a digital signage solution that customers could interact with.
Screens were introduced to the reception area, displaying content created by AXA's central office. Thanks to a tablet, customers waiting in reception can take control of the screen and browse pre-defined content. This means that they can learn independently about the AXA offers that are most relevant to them. Research found that customers were able to remember messages 53% more effectively via this dynamic type of display.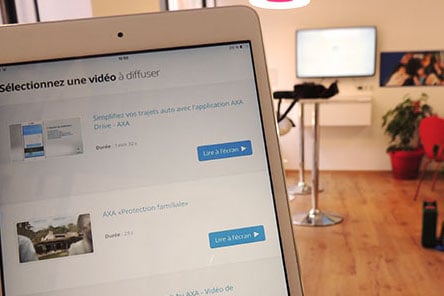 The solution allows AXA to display corporate messages that fit with current campaigns across its entire range of products, but also to present content specific to the particular office, and the particular individual.
Isabelle Darmau, AXA, said:
"We noticed a better knowledge of the offers among our customers who used the solution. The customer takes the time to analyze the offer, to choose what interests him, he becomes more prescriptive but is also more familiar with the brand. For our employees, it is a real sales tool."
Another benefit to this solution is the analytics it provides. The solution's tools make it possible to accurately monitor what customers are browsing and what content is most effective, which helps to improve future communications.
Cenareo provided all digital signage hardware and retail software required for the project, which made implementation easy for AXA.
Ms Darmau said:
"the solution was packaged so that we only had one contact person to equip us with the screen and the solution, which encouraged rapid implementation."
If you are planning a digital signage project, contact our experts for advice.