Digital signage solutions enable sales to grow significantly. Retailers have got the message: 60% of them want to use this digital communication lever. To ensure maximum profitability for their project, they need, of course, to optimize their expenditure on purchasing equipment. But there is more to it than that. Costs associated with the installation, integration, and management of their screen assets also need to be considered. Hence the value of being supported by the right digital transformation partner.
💸

Digital signage project: beware of hidden costs…
Digital communication solutions are a powerful lever within an omnichannel strategy, driving value creation. But to guarantee optimal ROI for your project, it will of course be necessary at the same time to cut costs. A basic error would be to think only of the costs involved in purchasing the screens. Other "indirect costs" can in fact weigh heavily on the profitability of a project in the longer term.
The Total Cost of Ownership (TCO) of digital signage thus covers a set of "hidden costs" that must be added to the purchase of the digital signage solution: equipment installation, screen operating costs, maintenance, etc. These costs absolutely have to be considered, and can (and must) be optimized.
🔂

Choose a single partner to reduce costs
The best option is to choose the support of a single digital transformation partner, capable of intervening across the whole project value chain. Of course, this needs to be someone who can ensure transparency of the digital communication solution, but who can also bring their expertise to bear across every key phase of a project.
Such support is doubly profitable. It guarantees a reduction in the costs of managing and maintaining the application. It also leads to increased operational responsiveness and efficiency.
Cost rationalization: the inspiring example of Boul
anger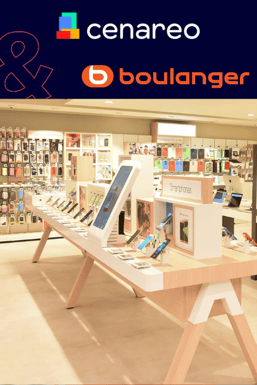 Boulanger had thus already shown others the way by choosing to reduce its list of partners drastically.
A strategy that paid off in more than one respect. In particular, the company benefited from greater operational efficiency, better monitoring of expenditure and screens, and gains in managing its assets. Overall, the company saw its costs drop by 30%.
Drawing on the expertise of a single partner to lead your digital transformation appears to be the best option. But how can you be sure you are making the right choice?
🤝

How to choose the right partner for digital transformation
To identify the ideal candidate, the most important thing is to understand what their level of involvement will be in every key stage of your digital signage project:
1) Deployment
A clear vision of the deployment phase must be given to the customer. The candidate must therefore prove their ability to commit to an installation schedule, punctuated by the delivery of various deliverables to show the project is progressing on schedule. They must also show that they have the in-house resources needed to install the software solution and/or screen assets within the minimum amount of time.
2) Onboarding
To ensure that in-house teams are capable of getting to grips with the tools quickly and easily, the digital transformation partner must also prove they will be able to help them acquire the skills they need. Training and guidance on best practices will thus be the guarantee of successful integration.
3) Monitoring and optimization
As the single point of entry for all requests from the customer, the Customer Success Manager is the guarantor of a project's success. Working in association with the partner's in-house teams, they will be able to monitor the project and come up with proposals for actions that will help optimize campaigns and performance. Their role is also to communicate all relevant information and to train the customer continuously on developments in the tools.
4) Support
"The screens were not working properly and ended up being switched off by the teams… without us knowing anything about it."




Marion Montambaux - Boulanger
This is the kind of situation, previously experienced by Boulanger, that must be avoided at all costs. Automated alerts must therefore warn of any malfunction, to guarantee the fastest possible response. The project is managed smoothly, with operational efficiency guaranteed and no money wasted unnecessarily.
Before initiating a phygital project, it is therefore essential to identify a high-performing "Plug-and-Play" digital communication solution. Easy to grasp, it will require only limited maintenance. But the right partner in digital transformation is the one who will be able to offer, in addition to their software expertise, service, and advice that will cover the entire needs of the customer across the whole of their project. The only support that combines those two dimensions will allow you to reduce costs in the long term.
With its strong phygital expertise, Cenareo offers its customers comprehensive support, providing each one with a team dedicated to the deployment of their digital signage project. For lasting, optimal performance of screen assets.