An attractive and efficient point of sale is a place where everything is in place to serve customers in the best conditions. This means a quality offer, a clearly identifiable concept and values, discreet and present customer service, a smooth and frictionless customer journey, and communication tools to increase engagement, reduce perceived waiting time and increase sales.
To make your outlets efficient, optimise your resources and improve the customer experience, let's see how to transform your store from the inside out thanks to digital signage.
🔗

Attracting the customer inside the store to boost sales

An efficient store is one that is able to attract customers. The store layout, care given to window displays and perceived atmosphere are very effective levers to achieve this. The installation of screens in shop windows offers numerous design possibilities: one or more resonant screens, LED walls or motion detectors producing a programmed chain reaction.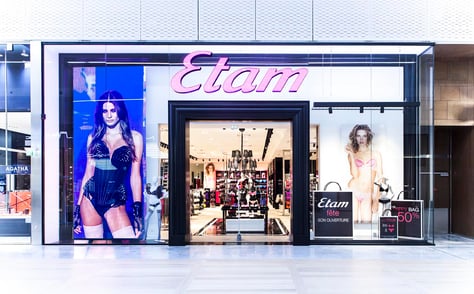 🚀

Boost sales on an offer or a product range

Once in the store, your screens showcase your products. A new collection, selected items according to the weather, a special promotion... you can create dynamic and personalised content, updated in real time in the stores of your network. Digital signage offers great consistency with your brand image to make sure that the customer stays in your world and ensure better recall of your brand.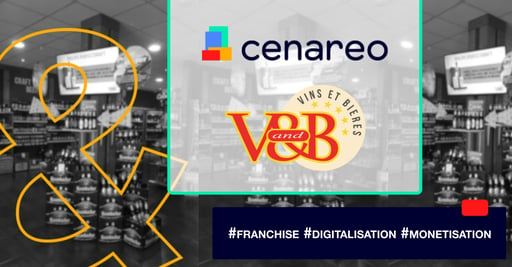 This is what the VandB brand, which specialises in the sale of beer and spirits, is doing monetises the screens of its 180 franchisees to introduce new brands to the market. The screens become a communication medium for newcomers and ensure a targeted and captive audience at launch parties. The result: VandB is becoming a launch pad for brands countrywide.
⌛

Limit perceived waiting time

In stores, it is not always possible to avoid waiting times at the checkout or when a salesperson is unavailable. Nevertheless, it is possible to limit the impact by working on the perceived expectation.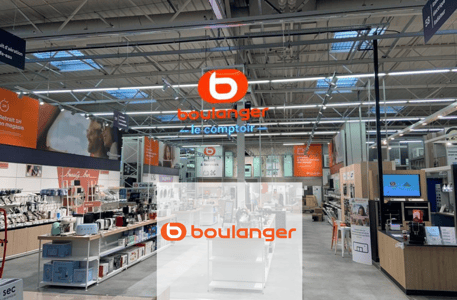 This is what Boulanger has done in its stores by placing screens at the checkout. By broadcasting messages about its products, content from partner brands and by anchoring itself in the local reality with local information, the brand creates a form of emotional proximity with its customers. Displays reduce perceived waiting time by attracting customers' attention and enhancing the in-store experience.
🌟

Strengthen brand image and increase average basket

For retailer networks with a highly diversified offer, digital signage is an excellent lever to enhance and strengthen its visibility through the screens. This is what the NAP group has achieved with its Maisons de la Presse stores. The screens are positioned in the window display at the entrance to the store or directly integrated into the product shelves to promote an offer that is sometimes little known (press, bookshop, telephony, games/toys, snacks, tobacco, stationery, parcel delivery, breakdown service, etc.).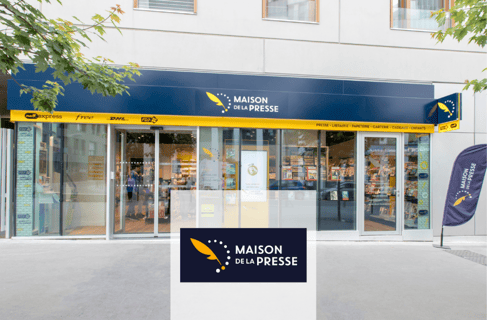 Each Maison de la Presse also broadcasts the news of its home town on its screens and plays its role as a local cultural actor. A concept that is producing results with a 12.3% increase in monthly takings and almost 40% growth in toys, 25% in multimedia and more than 15% in foodstuffs.
💰

Monetise your digital signage

Displays can also be monetised with your partners and suppliers to maximise your return on investment. Instead of distributing brochures, posters and promotional material in its stores, the PPG group for its Comptoir Seigneurie Gauthier brand also communicates on the brands of its suppliers thanks to the dynamic display. The brand offers a marketing package incorporating web presence, e-mailings and marketing campaigns on our screens. Advertisers are assured of reaching a qualified audience as close to the act of purchasing as possible.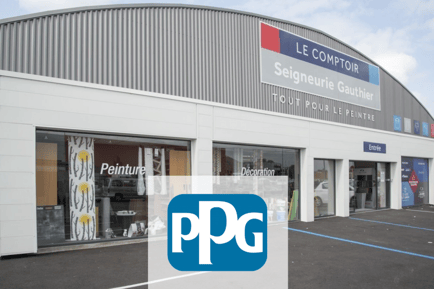 Screens serve many purposes that affect the entire customer experience. In terms of communication, marketing, customer service and experience, it is an important performance lever for making your outlet attractive and successful in the long term.